What is an Eyebrow Transplant?
An eyebrow transplant is a surgery used to implant hair where eyebrows would normally appear naturally. A person may need an eyebrow transplant because his eyebrows are entirely absent or because they are more sparse than normal. For example, a person may need an eyebrow transplant after a burn has removed them or due to hair loss. For this procedure, hair is taken from the scalp, which is referred to as the donor site, and transplanted to the face.
Eyebrow transplants are performed on people of both genders. There's a variety of reasons why a person may need one. For example, an individual may opt for an eyebrow transplant after experiencing hair loss caused by a genetic condition or thyroid problem. Sometimes a person may have sparse eyebrows after undergoing such procedures as electrolysis and laser hair removal. Burns and traumatic accidents can leave a person in need of an eyebrow transplant as well. Even aggressive plucking can leave a person with less eyebrow than he likes.
When an individual opts to have an eyebrow transplant, he may need to have an entire eyebrow replaced, or he may merely need eyebrow thickening. Either way, the hair that will become part of the eyebrow is taken from the patient's scalp. Healthy hair is used and continues to grow once successfully transplanted on the face. This differs from natural eyebrow hair that doesn't grow very long. To keep hair in this area looking normal, a person must trim his eyebrows regularly after undergoing an eyebrow transplant; usually, this means trimming them about once per month.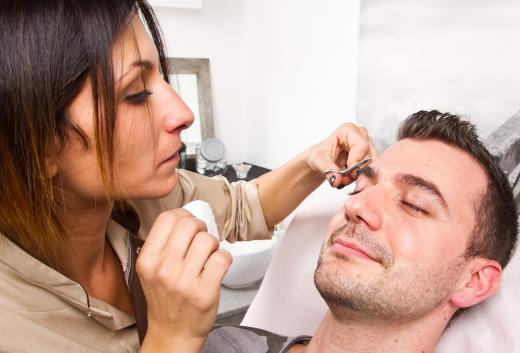 Plastic surgeons put effort into making transplanted eyebrows resemble natural eyebrow growth. Instead of transplanting an entire strip of hair at one time, they usually transplant hairs singly or in pairs. This typically helps the transplanted hairs to look more natural. The surgeon makes minuscule incisions for this procedure, angling them in a direction that follows the normal pattern of growth. He then places each hair into these tiny incisions.
When an individual undergoes an eyebrow transplant, his surgeon typically implants anywhere from 50 to more than 300 hairs into one eyebrow. The exact number of hairs depends on a number of factors, including the amount of eyebrow hair that is left and how thick and long the patient wants his eyebrows to be. In most cases, the surgery isn't very long; it can be completed in just a couple of hours. The patient usually receives a mild sedative and localized anesthesia.
AS FEATURED ON:
AS FEATURED ON:







By: cleomiu

Those with alopecia totalis may be eligible for an eyebrow transplant from another area of the body.

By: Lsantilli

An individual undergoing an eyebrow transplant may request either an eyebrow replacement or thickening.

By: stockshoppe

Thinning eyebrows may be a symptom of hypothyroidism.

By: spotmatikphoto

Laser hair removal may leave someone with sparse eyebrows.

By: danr13

A surgeon may implant between 50 and 300 hairs into a single eyebrow during an eyebrow transplant.

By: Alexey Klementiev

Eyebrow transplants are performed on men and women.