Pomade is a waxy or greasy hair product often associated with men's hairstyles of the 1950s. It typically consists of petroleum jelly, mineral oil, and wax, with optional perfumes or colorants. The name is derived from the French for "apple," because the original product, made in the 16th century, contained mashed apples.
Because of its thickness, pomade offers the stylist excellent control over the hair. It also allows curly hair to be straightened. Pomade is commonly used to obtain a pompadour, ducktail, or quiff hairstyle, popular in certain youth cultures, such as rockabilly, since the 1950s. However, this product was a popular hair dressing for men long before the 1950s, as stiff, wet-look hairstyles had been fashionable for much of the 19th century. 1920s film stars like Rudolph Valentino also popularized the look.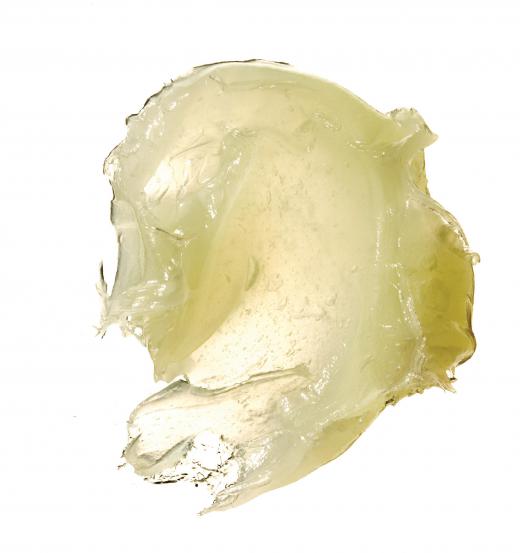 Pomade gives the hair a shiny appearance and, unlike many other hair products, leaves the hair greasy to the touch. It may require more than one washing to remove all traces of it from the hair. Pomade has waned in popularity since the 1960s, when dry-look hair became the style for men, though it is still popular in subcultures that emulate the fashions of an earlier era. Today, pomade has evolved into a more general term, and more common hair products, such as gel or mousse, may be marketed as using this name.
Because of the greasy nature of pomade, it is associated with a condition known as pomade acne, in which portions of the scalp and forehead that come into contact with the styling product break out. The fact that pomade is most commonly used today among teenagers and young adults, who are already more prone to acne, exacerbates this problem. Applying the styling product further back from the hairline may help address this condition, but a dermatologist may advice discontinuing its useif the acne is persistent.
AS FEATURED ON:
AS FEATURED ON:







By: blueee

Petroleum jelly is often used in pomades.

By: Thibault Renard

Early pomades contained mashed apples.

By: gemenacom

Some hairdressers believe that there is very little difference between hair styling wax and hair pomade.