What Is the Difference between a Base Coat and a Top Coat?
Manicurists and individuals who groom their own fingernails often use both a base coat and a top coat during the process. The base coat is a clear, slightly tacky product that is brushed onto nails before the application of nail polish. Its purpose is to provide a barrier between nail polish pigments and the fingernails and to hold the nail polish to the nail. The top coat, on the other hand, is typically brushed onto the polished nail as a way of sealing in the color and strengthening the nail. Some companies sell all-in-one products that incorporate a base coat and a top coat so that consumers do not have to purchase two different products to care for their nails.
While many people enjoy painting their fingernails and toenails different colors, the pigments in nail polish can sometimes stain the nails. In addition, keeping nails well groomed includes ensuring that there is no obvious chipping or cracking of the nail polish. Once nail polish chips, an individual must either completely redo the nail, visit a manicurist to correct the problem, or simply remove the nail polish off every nail to achieve a consistent appearance. The use of a base coat and a top coat during a manicure helps to prevent the discoloration of fingernails and discourages the cracking and chipping of the nail color as well as the nail itself. Typically, each layer of nail product and color is applied in turn and allowed to dry between applications.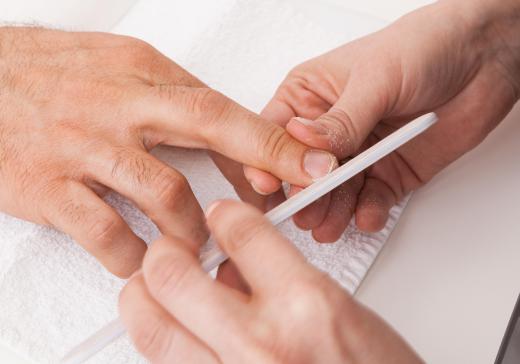 For those who perform their own manicures and pedicures, using a base coat properly is important. As the base coat is often slightly sticky, it is inappropriate for use as a top coat, as it could create an easily marred surface for the nail. If someone is reluctant to purchase both a base coat and a topcoat, she should look for a dual-purpose product or simply use a topcoat for both steps during the manicure.
A top coat often serves several different purposes in nail grooming. Not only does it protect nail polish against chipping, but it can also help strengthen the fingernail. Some people will simply apply a top coat to their nails if they want a natural look with just a bit of shine. Many women will also carry a bottle of top coat with them when wearing nylon stockings, as the top coat can be used to stop runs from growing.
AS FEATURED ON:
AS FEATURED ON:







By: terex

Manicurists generally apply both a base and top coat during the manicuring procedure.

By: Photofollies

Top coats are intended to seal in the color of a manicure and make it last longer.

By: Alliance

A topcoat often serves several different purposes in nail grooming.