Should I Use a Nail Polish Top Coat?
In general, it is a good idea to use a nail polish top coat. A top coat is a good way to protect your manicure from scratches, dings, and chips, and it takes just a few seconds to apply. In addition, it may be a good idea to use a base coat as well, which is applied underneath the polish to give the polish a smoother appearance.
It is very simple to successfully paint your nails and give yourself a beautiful manicure. After filing your nails into the desired shape, either square or rounded, and pushing the cuticles back with an orange stick, you may first apply a base coat to clean, dry nails. This base coat helps the nail polish adhere to the nails better, and also creates a smoother surface by filling in any imperfections. Next, apply one to two coats of your preferred polish. After allowing that to dry for a few moments, it is now time to apply a top coat.
The nail polish top coat usually only needs one coat of application. It will make your nails appear shinier and glossier for much longer, and may be touched up during the week to renew that shiny appearance. In addition, the top coat will protect the fingernails a bit better from peeling and chipping. Another way to protect the nails and cuticles is to apply moisturizing cream before bed.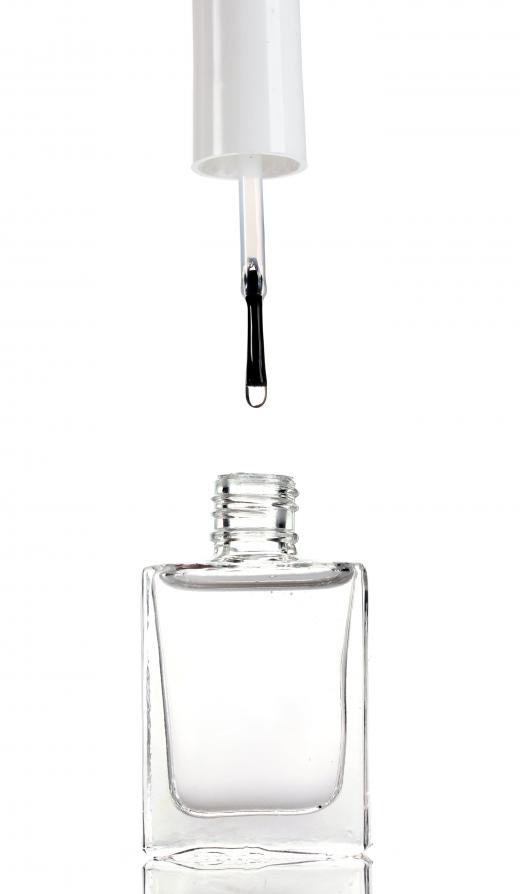 A top coat polish is usually completely clear, and dries to a hard, glossy finish. This type of nail polish may be purchased on its own in stores, but sometimes it is sold in a pack with each individual nail polish color. The two-pack may be a better price, but in general, it does not matter where the top coat comes from. Many different brands sell nail polish top coats, and it might take some trial and error for you to determine which looks best on your nails, and which helps your manicures stay perfect longest.
A top coat may be used on the toenails as well. In addition, some have quick-drying properties, so they may be applied on top of wet nail polish to help it harden faster. This is beneficial if you only have a brief period of time to paint your nails before you need to get back to regular activities. It is a good idea to use a top coat to extend the life of your manicure, and to help your painted nails to appear shiny and beautiful.
AS FEATURED ON:
AS FEATURED ON:







By: Valua Vitaly

A pedicure can still look great after a few weeks, especially when a top coat is used to protect the polish.

By: Africa Studio

A nail polish top coat.

By: Konstantin Tavrov

Moisturizing cream is another way to protect nails and cuticles.

By: terex

It is generally a good idea to use a nail polish top coat after filing and polishing your nails.

By: Alliance

A topcoat often serves several different purposes in nail grooming.