What is the History of Sunscreen?
Sunscreen might have been around longer than most of us realize. The first one appeared on the market in the late 1960s. Its purpose was to attempt to minimize the effects of ultraviolet light from the sun. It wasn't until around 1972, however, that labeling of the sun protection factor, or SPF, was introduced in the U.S. These sunscreens, which were improved and modified over time, were designed to block ultraviolet-B radiation.
It wasn't until the late 1980s that researchers determined that although ultraviolet-B light initiates most skin cancers, ultraviolet-A rays also play a role in promoting skin cancer. So, in the early 1990s, sunscreens were improved to contain ultraviolet-A blockers via an ingredient called Parsol 1789. In the mid 1990s, ultramicronized zinc and titanium oxide were added to many versions.
Sources vary as to who invented the first sunscreen, but most acknowledge that Milton Blake, a South Australian chemist, experimented unsuccessfully with creating a sunburn cream in the early 1930s. However, the founder of L'Oreal cosmetic company, Eugene Schueller, also a chemist, found success where Blake did not and is often credited for inventing the first sunscreen in the 1930s. Other sources name Austrian scientist Franz Greiter as the inventor of sunscreen, a product named Glacier Cream. Greiter was inspired to create a product in 1946 to protect the skin from sunburn due to a burn he received while mountain climbing at Piz Buin, on the Swiss-Austrian border, eight years prior.
Even others attribute the invention to Benjamin Green. In the 1940s, Green, a Miami, Florida physician, prepared a red jellylike substance in his own kitchen and then tried its effectiveness on his own bald head. Green was interested in protecting the WWII soldiers stationed in the South Pacific. After the war, Green continued to experiment with his formula until he created what became known as Coppertone suntan cream in 1944. Coppertone suntan cream, scented with jasmine, was the first consumer mass-produced sunscreen product.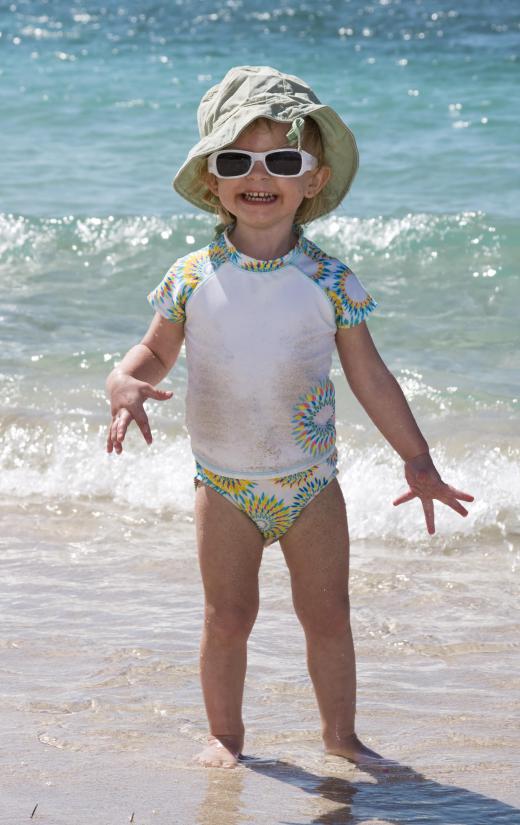 Other important dates in sunscreen history include the invention of zinc cream in 1940. Over the years, many variations have developed: waterproof, spray-on, disappearing colored sunblock for kids, and day-long protection. The requirements for sunscreens vary by country.
AS FEATURED ON:
AS FEATURED ON:







By: miiko

Sunscreen is designed to block out ultraviolet light from the sun.

By: TheSupe87

A person with a sunburn.

By: Karen Roach

Doctors have found that children who wear sunscreen have lower incidences of developing skin cancer later in life.

By: Nobilior

The first sunscreens were made with PABA, which is no longer used because it may actually increase absorption of the sun's rays.

By: red150770

Today, dermatologists recommend that all people apply sunscreen to their face and other exposed skin daily.