Walnut extract is usually made from 100 percent unripe hulls and leaves of the walnut tree. Its first known medicinal use is attributed to the Chinese, who found that walnuts help treat kidneys, lungs and intestines, but its more familiar uses are preventive in nature. In many cases, commercial walnut extract is diluted in a 20 percent solution of water and alcohol. Preparation, however, varies in terms of function and usage.  
Black walnut extract is naturally rich in organic iodine, manganese and vitamin B15 among other nutrients that provide antiseptic properties. It also contains astringent and other bitter compounds that help treat skin problems. Other traces of vitamins and minerals in walnuts support the brain, nerves and cartilages.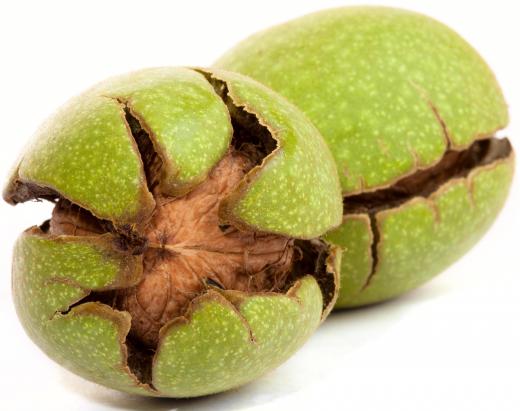 As antiseptic, walnut extract fights parasites that cause acne, rashes, fungal infections, herpes, warts, ringworm and broken skin. Dermatologists claim that it also can be used as an antiperspirant. Its rejuvenating properties maintain the health of external and internal skin tissues, thus enhancing the look and texture of the skin. 
Aside from fighting skin parasites, walnut extract also has bacteria-cleansing capabilities. It can be used orally to treat mouth infection and sore throat. A solution of the extract and water can be gargled as a teeth cleanser and to restore teeth enamel. 
The immune system, nerves and connective tissues also might benefit from the bacteria-fighting characteristics of walnut extract. Diseases transmitted by mosquitoes, such as dengue and malaria, can be prevented. The extract supports antibodies in its battle against infections. Also, its vitamin content can increase the body's capacity to protect itself from lung and thyroid ailments. 
Among the aforementioned uses, maintenance of the digestive system is the most common medicinal function of walnut extract. It relieves the body of constipation, bowel irregularities and other related digestive problems. The solution's cleansing properties oxygenate the blood in order to wash away the parasites that thrive inside the body.  
For preventive purposes, at least five drops of walnut extract can be diluted in a glass of water, and the solution can be consumed be three to four times daily, preferably between meals. It is advisable to increase dosage to 20 to 25 drops gradually while observing how the body reacts to the solution. The same dosage applies when using the solution for oral hygiene. To cure skin problems, on the other hand, it is advisable to apply the extract directly onto the affected skin.  
AS FEATURED ON:
AS FEATURED ON:







By: serg_dibrova

Walnuts.

By: dinostock

Walnuts in the shell.

By: ksena32

Black walnut extract is naturally rich in iodine and other nutrients.

By: Tiler84

Walnut extract fights parasites that cause warts.

By: librakv

Walnut extract can be used to fight parasites that cause skin rashes.

By: schankz

Walnut extract fights ringworm.