What Is Zinc Oxide Paste?
Zinc oxide paste is a very thick topical ointment. People use it as a skin protectant and to treat a variety of skin irritations. Due to the properties of zinc oxide, it also makes an effective sunscreen. While this paste can provide symptomatic relief for certain skin conditions, it has no antibacterial properties and isn't designed to treat underlying infections.
As a mineral in its natural form, zinc oxide is a fine, white powder. The powder itself does not dissolve in water and has reflective qualities, meaning that it reflects rather than absorbs light. For pharmaceutical purposes, zinc oxide paste is created by combining the powder with other base ingredients, such as petroleum, starch, and fragrance. The result is a thick, smooth, white cream that spreads easily onto the skin.
Due to the water resistance of zinc oxide, people often use the paste as a skin protectant to guard against rashes and other irritations. For instance, many people find that zinc oxide paste is particularly effective against diaper rash because it coats and soothes the skin while forming a powerful barrier against moisture. Similarly, doctors often recommend zinc oxide to treat skin conditions such as rashes caused by poison ivy, bug bites, or allergies. The thick paste soothes the itch and discomfort while protecting the sensitive skin from external irritants.
Health care providers do note that, while zinc oxide paste helps ease the symptoms of skin irritations, it is not an antibiotic. Consequently, if a rash or other condition is caused by an infection, the cream won't cure the root cause but might only lessen the symptoms. It is therefore important that any individual experiencing persistent skin irritation has the condition evaluated by a medical professional to determine its cause and whether additional medication is warranted.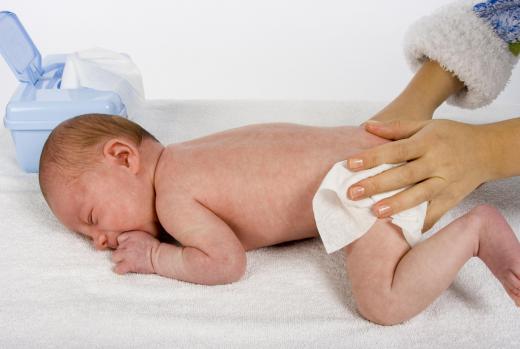 While many people recognize zinc oxide paste as a treatment for skin discomfort, it also makes for an effective sunscreen. Even when added to topical ointments, zinc oxide retains its ability to reflect light and ultraviolet rays, including UVA and UVB rays — the culprits in causing sunburn. Thus, when the paste is applied, it stops both these types of harmful rays from reaching the skin and consequently protects against sunburn. Further, because the cream is water resistant, it won't readily wash off when swimming.
Generally sold over the counter in many pharmacies, most compounds containing zinc oxide have anywhere from 25 to 50 percent concentration of the mineral. Some creams containing zinc oxide have thinner textures and are marketed as lotion or ointment. For the most part, zinc oxide paste has the thickest consistency of all the zinc oxide products. While it is safe for most consumers, people who have allergies to zinc, latex, or petroleum or women who are pregnant or nursing should check with a medical professional before using zinc oxide paste.
AS FEATURED ON:
AS FEATURED ON:







By: Tinga

A tube of zinc oxide paste.

By: Albo

The Sun is the source of UVA and UVB rays, which can damage skin.

By: Tomasz Trojanowski

Zinc oxide paste can be used to treat and prevent some types of diaper rashes.

By: jedi-master

Doctors often recommend zinc oxide to treat skin conditions such as rashes caused by bug bites.

By: librakv

Zinc Oxide paste can be used to treat skin rashes caused by poison ivy.

By: Antonioguillem

Zinc oxide paste helps shield the skin from the sun's UVA and UVB rays.

By: Amy Walters

Zinc oxide paste is a good way to prevent a sunburn.