What Type of Bra is Right for Me?
Many women wear bras which are not sized correctly, or are inappropriate for the activities they are engaging in. Choosing a bra can be difficult, especially in a store with a wide assortment of available bras. There are several issues to take into account when choosing a bra which will make the process easier.
The first thing to think about while choosing a bra is how you will be using the bra. For exercise, a sports bra should be purchased. For wear under t-shirts and other form fitting garments, a seamless bra made from a smooth material is an excellent idea. Strapless bras are designed to go with strapless garments and gowns. If you are pregnant, a maternity bra to accommodate your enlarged and often more tender chest is a good acquisition, and nursing mothers should think about nursing bras, which make breastfeeding much easier.
Another consideration is the type of support offered. Larger breasted women should seek out underwire bras with large wings, while smaller breasted women can get away with smaller underwires or an underwire free bra. Bras with straps which cross in the back offer much more support than conventional straight strap bras, and the straps will be less likely to slide. Choosing a bra with the right level of support is very important, and do not be afraid to ask for help.
Style is another issue when choosing a bra. Bras run the gamut from lacy dress-up bras which are intended for ornamental use to practical, very plain bras. Most women like to have a few dressy bras available along with matching underwear for special occasions. Workhorse bras which are designed for long, comfortable wear and practical looks are also an important part of the wardrobe. In addition, most women could benefit from choosing a selection of nude bras for wear under sheer or light colored garments.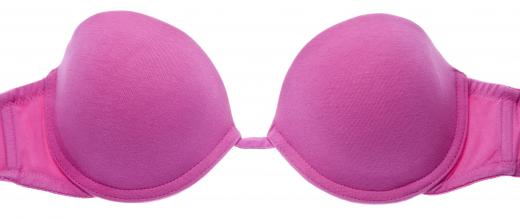 The materials used can also have an impact on choosing a bra. Most bras need to be hand washed. Women who want to be able to throw their bras in the washer should seek out washer-safe bras, which are often made from cotton. Synthetic materials are much more common, although women may want to watch out for lace, which can get scratchy. While investigating the material for care and comfort, women may also want to check on where the seams of the bra are, as seams can get uncomfortable after a long day.
Comfort is probably the most important thing when choosing a bra. A bra should never be uncomfortable to wear, and time should be taken while choosing a bra to make sure that a bra fits properly. To fit a bra correctly, find someone to help you take measurements so that you can ensure that they are accurate. Start by measuring the ribcage directly under the breasts. If the measurement is less than 33 inches (84 centimeters), add five inches (13 centimeters) to it. For measurements over this amount, you need to add three inches (eight centimeters). This numerical measurement is the chest measurement, and you can doublecheck it by measuring around your chest above your breasts. Your chest measurement should match the adjusted ribcage measurement.
Next, measure all the way around your chest at the widest point to determine your cup size. The difference between this measurement and the chest measurement will reflect your cup size. In the United States, each inch (two and a half centimeters) of difference represents a letter. Most people fall in the range of AA, A, B, C, D, or DD. Larger sizes are also available. Cup sizes may vary in other nations, although the lower sizes are fairly standardized.
When you are trying on a bra, check to see that all of the straps lie flat and even. There should be no buckling anywhere, and the straps should not dig into your flesh. Stick a finger under the bra in the front to check for breathing room, and make sure that the cups are fully filled. The bra should feel comfortable as you bend and twist in it. If the bra does not fit, ask for another size or style. Do not be ashamed of trying on an assortment of bras to choose the right one, since comfort is crucial!
AS FEATURED ON:
AS FEATURED ON:







A woman trying on a bra.

By: Karen Roach

A sports bra.

By: Brooke Becker

A strapless bra.

By: Africa Studio

A demi-bra is useful for low cut shirts.

By: Connor Evans

By taking simple measurements using a tailor's measuring tape, you can figure out what size bra to purchase.