How do I Choose the Best Complexion Soap?
The best way to choose a complexion soap is to find a variety that is best suited to one's skin needs. There are hundreds, perhaps thousands, of soaps on the market sold by various skin care companies. All of these soaps are formulated slightly differently. The key is finding a complexion soap formulated in a way that best treats and improves the skin's tone and health. This process involves a bit of research and some trial and error but can result in finding the best product for one's skin.
Most kinds of complexion soap are packaged in a way that indicates the type of skin conditions that they treat. For example, one complexion soap might be formulated for people who are trying to treat acne while another kind of complexion soap might be formulated in a way that helps to treat dry skin. The first step is to assess one's skin needs and then narrow down all of the options according to the skin issues that the soaps are supposed to treat or address.
The next step is to test different kinds of soap. This may take a while for those who don't want to purchase dozens of soaps at once and try each one within a short period of time. In order to further narrow down the search and save months of trying different kinds of soaps, consider reading product reviews. The Internet is an excellent source for product reviews and there are many sites dedicated to beauty products where people can write reviews. Many of them have active web boards where people can even ask questions and get responses from others who have tried various kinds of complexion soap to get some advice.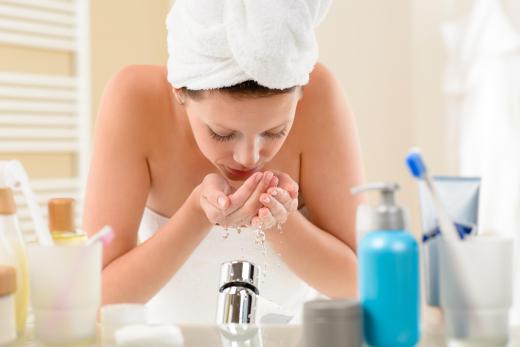 Many times companies that sell moisturizer, cleanser, exfoliant, eye cream, and other similar kinds of products also sell complexion soap. For people who have already identified a line of products that works well for their skin and delivers good results, it is best to first find out if that line includes complexion soap. In fact, it is quite possible that such a line will carry a number of kinds of complexion soap that address numerous kinds of skin needs. There might be one soap for sensitive skin, another for oily or blemished skin, and yet another for combination skin. If it does not, then another similar line of products that uses similar ingredients may be tested.
AS FEATURED ON:
AS FEATURED ON:







By: Fotoluminate LLC

Complexion soaps are usually targeted at specific skin problems.

By: CandyBox Images

People with oily skin may want to use a gentle complexion soap that absorbs excess oil without leaving the skin dry and irritated.

By: Lsantilli

Weather, water and skin type will all affect which soap is best to improve a person's complexion.

By: Piotr Marcinski

Some complexion soaps may be specifically formulated to treat dry skin.

By: gosphotodesign

When selecting any skin care product, take into account whether your skin is oily, dry, or a combination of the two.

By: micromonkey

Complexion soap helps promote an even skin tone.

By: Valua Vitaly

Skin care products with natural ingredients are generally considered to be safer for the skin.

By: Ocskay Bence

Complexion soap may be formulated to treat someone with acne.