How do I get an Even Skin Tone?
The way to make skin look the best is a combination of a healthy skincare routine as well as careful application of makeup based on your unique skin type and needs. Drinking enough water can also help your skin to appear clearer and healthier. An even skin tone makes skin look healthy, fresh, and clear even without makeup. Of course, makeup can also make a big difference when trying to get an even, smooth skin tone.
One of the best ways to get an even skin tone is to regularly exfoliate the skin. A daily, gentle exfoliating cleanser, followed by an exfoliating scrub once a week, can help to slough off dead skin cells and make skin appear softer and fresher. Always use an exfoliating scrub that is designed for the face; one designed for the body can be too harsh. It is also possible to make your own exfoliator using oatmeal; search online for recipes.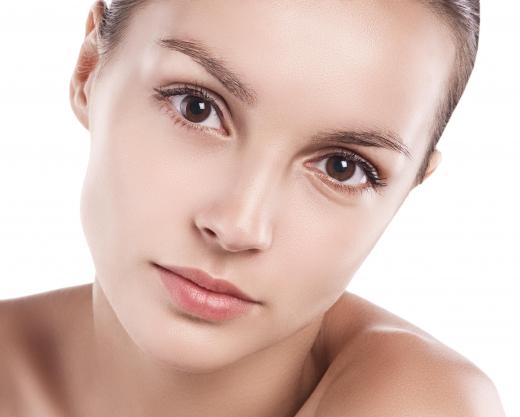 Daily moisturization is important for an even skin tone as well. Be sure to apply a daily moisturizer with sunscreen for use during the day, and a thicker, richer moisturizer containing antioxidants at night. Antioxidants can help to repair cell damage and promote a good skin tone. When choosing products for use on the face, whether they are cleansers, moisturizers, or makeup, be sure to consider any allergies or sensitivities you have, and choose fragrance-free products if necessary.
Once you have developed a regular skincare routine, it may be necessary to use makeup to get a completely even skin tone. Choose facial products such as concealer and foundation to match your skin tone, being certain to keep the undertone of your skin in mind as well. Cool skin tones have bluish undertones, while warm skin tones have pink or yellow undertones. Test the products on the underside of the wrist or the back of the hand.
Then, apply dabs of concealer to any undereye circles, as well as any other areas of redness or blemishes on the face. The foundation may then be applied on top of the concealer; there are many different types of foundation available, though many people prefer tinted moisturizer to even out skin tone. This product combines a small amount of foundation and a moisturizer, and often works well to even skin tone for people who do not need to wear a lot of makeup and are just looking for a small bit of cover up.
AS FEATURED ON:
AS FEATURED ON:







By: Sikov

Hydration is an important factor in achieving an even skin tone.

By: bit24

Using a gentle exfoliator, like white sugar, helps promote an even skin tone.

By: Marina Karkalicheva

Freckles result from unequally distributed melanocyte cells under the skin.

By: roblan

Many people rely on vitamin K to reduce dark circles under their eyes.

By: Subbotina Anna

Choosing the right foundation or BB cream can help women appear to have more even skin tone.

By: ipag

Those with sensitive skin may need to use fragrance-free facial wash, soap and lotion.

By: Antonioguillem

Excessive exposure to the sun can cause age spots and other patches of skin that are uneven and discolored.

By: Africa Studio

Consistent use of a daily moisturizer with a high sun protection factor (SPF) may help facial skin appear more even and smooth.