How Do I Choose the Best Curling Iron for Thick Hair?
Heat styling thick hair is a slightly greater challenge than fine hair. Thick hair tends to be more heat-resistant, requiring a higher heat setting on styling appliances, and it is often wavy or curly and more prone to dryness and frizz. Using the right styling tools will definitely improve the styling process for thick, coarse hair. Selecting a good curling iron for thick hair in conjunction with the right styling products will result in faster styling, longer hold, and less frizz. Look for one that can be set to a high temperature, heats evenly, and helps smooth the hair.
The best curling iron for thick hair is a hot one. There are several manufacturing laws for electrothermic appliances — this includes curling irons — and as a result, there are maximum temperature settings. Most professional curling irons will reach temperatures of about 450°F (176.67°C). For extremely thick, heat-resistant hair, this is about the right temperature. Both flat irons and curling irons use heat to temporarily change the shape of each hair shaft and because it takes longer for heat to penetrate thick hair, the higher the heat setting, the better the result.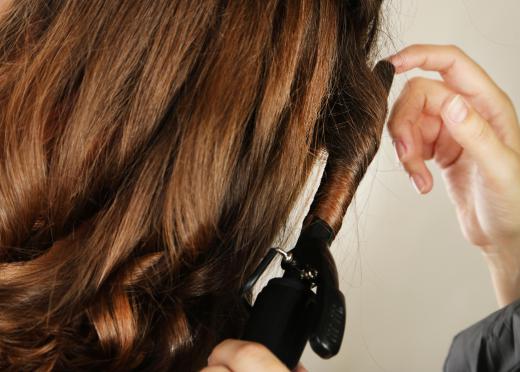 While the temperature of the curling iron is important, so is the distribution of heat. There are basically three kinds of curling irons: ceramic and tourmaline, gold or titanium, and chrome-barreled. Ceramic and tourmaline curling irons will reach the highest heat settings easily and also distribute the heat more evenly. These types of irons tend to be the most expensive, but are the best type for thick hair because they heat evenly and help reduce frizz.
Both gold and titanium-barreled curling irons often have high heat settings and are good heat conductors, but they offer virtually no reduction in frizz. Either gold or titanium is an acceptable choice for hair that stays straight and smooth regardless of styling methods, but they should be avoided by people with thick, frizzy hair. Chrome-barreled curling irons are the least expensive choice, but are not good conductors of heat and not the best for curling thick hair.
In addition to selecting a good iron, good styling products are also essential. People with thick, curly hair and hair that tends to frizz should avoid shampoos containing sulfates. Dry or heat-damaged hair requires regular conditioning and all hair types should find a weightless, leave-in product that protects against heat damage. Due to the added weight of thick hair, styling products should be as weightless as possible. Also keep in mind that dry hair does not need to be washed every day and can be easily refreshed with a quick application of a flat or curling iron.
AS FEATURED ON:
AS FEATURED ON:







By: Africa Studio

Individuals with thick or long hair should invest in a professional ceramic curling iron, which will be able to reach high temperatures more quickly than the standard model.

By: Laurent Hamels

People who have thick hair should avoid shampoos that contain sulfates.

By: indiraswork

People who have thick, curly hair should not use shampoos that contain sulfites.

By: monticellllo

People with thick hair should choose weightless styling products.