How Do I Choose the Best Hair Wax for Long Hair?
Hair wax is one of the most popular types of styling products because of the way that it can define a person's look. The best hair wax for long hair depends on the style that you have — generally, the product works best for layered locks. Salons tend to sell a wide variety of hair styling waxes, but you might be able to find the same quality products cheaper at a beauty supply store. Waxes most often come in tubs due to the pasty texture of the product, but it is also available in tubes for a less messy application. No matter which kind of hair products that you choose, you will want to apply wax sparingly because using too much can weigh down long locks.
Styling products are designed for certain hair types, as well as the way in which the hair is cut. Although wax is appropriate for virtually any type of hair, it tends to work best if locks are cut in layers since it works as a defining tool. If your hair is long, then it should also be layered in order to get the best results out of this kind of product. Hair wax for long hair can accentuate both short and long layers, as well as separate strands.
Professional salons offer a wide variety of hair waxes, and it is convenient to buy them there immediately after you get your hair cut. A stylist can also show you how to apply the product correctly for the best results. If you are on a budget and are already familiar with hair wax for long hair, then you might purchase the product from a discounted beauty supply store instead. Such stores often have generic brands that are the same quality formulas as the waxes sold in salons.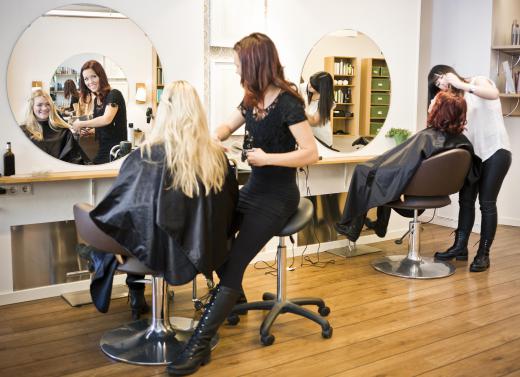 Due to the consistency of the product, hair wax for long hair is most often sold in tubs. When using the product, you simply grab a small amount of product from the tub and rub it between your hands before application. A less messy alternative is wax that is sold in a tube, but keep in mind that it can sometimes get stuck within the bottle. Some mousses are also made with waxes if you need a stronger hold.
Since wax contains less oils than pomades, it is easy to make the mistake of using too much of this particular product at once, especially if your hair is long. Although hair wax for long hair might be a viable styling aid, you should avoid using too much because it can actually weigh down your look. If you have naturally oily hair, then using an excessive amount of wax can actually contribute to greasiness.
AS FEATURED ON:
AS FEATURED ON:







By: fotosmile777

Hair wax for long hair can accentuate short and long layers as well as separate strands.

By: gemenacom

Most professional hair salons will sell a variety of hair waxes.