How Do I Choose the Best Lip Concealer?
A lip concealer is used to cover dark spots and blemishes on and around the mouth. This type of beauty tool can also be used as primer before applying lipstick in order to make the color bolder. The best lip concealer should be one that matches your skin tone best, similar to that of a liquid foundation. These concealers come in a variety of styles, from traditional sticks to liquid versions.
Dark areas and red spots can occur anywhere on the face, including the lip area. Regular concealers are helpful in other areas of the face, but these products are generally not intended for use on your lips since your skin tone is different in that area. A specific lip cover can help to minimize dark areas on and around your mouth, as well as reduce redness associated with blemishes.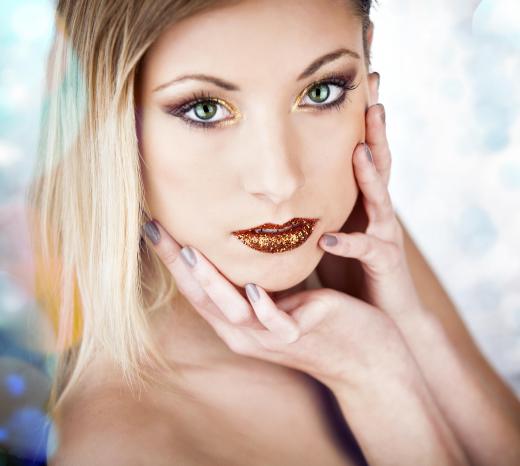 Although the primary purpose of a lip concealer is to minimize defects around the mouth, it is also often used as a primer for lipsticks. Applying lip covers prior to lipstick can make the shade brighter and truer to the color shown on the product's package. Also, a lip cover can help a lipstick color stay in place longer and avoid creasing or feathering.
Just like foundations and face powders, the best concealer should match closely with your natural skin tone. Depending on the color of your lips, this can range from a light pink to yellow, as well as brown or black. Yellow concealers are sometimes more effective in reducing redness if you have pale white skin. The best way to pick the shade of your lip cover is to test it at a makeup counter. If you are purchasing the product from a drug store, consider selecting a shade lighter, as the packaging can sometimes be misleading in terms of the concealer's true color.
Lip concealers come in a variety of different styles based on your preferences. Similar to traditional facial concealers for dark spots and blemishes, lip versions usually come in the form of solid sticks or liquids. A solid lip cover is similar in appearance and texture to a chapstick, and is less messy during use. At the same time, liquid concealers are often preferred if you only need to touch up a small area of the lips, as they sometimes come with a small applicator. In order to avoid placing too much of the product on the lips, consider applying the concealer with your fingertip and gently blending it in.
AS FEATURED ON:
AS FEATURED ON:







By: Nicola_Del_Mutolo

Lip concealer can be applied before putting on lipstick to create bold colors.

By: alex83ch

When buying a lip concealer, choose one that flatters your complexion.

By: Tanouchka

Similar to foundations and face powders, the best lip concealer should closely match the wearer's skin tone.