How Do I Choose the Best Makeup for a Cool Skin Tone?
Choosing the best makeup for a cool skin tone is all about picking colors that enhance the natural shade of your skin. When deciding on face products, look for items that have a slightly yellow base, while avoiding pink-toned foundations, powders, and concealers. Blushes and bronzers that match the color of your skin when you tan or flush naturally are often the best choice. While eyeshadow colors are often more adaptable to a range of skin tones, those with a cool skin tone should typically avoid very warm colors, such as orange, red, or yellow-gold, as these can wash you out. When it comes to lips, opt for colors in the pink and mauve family, and avoid anything with an orange base.
With most makeup for a cool skin tone, you should look to match the item to the natural undertones of your face, typically pink or blue. This is not true, however, when it comes to face products. Applying a pink-based foundation or powder can often make you look too pink, and can seem unnatural on your skin. If your skin is only slightly rosy, opt for a neutral-based foundation, often indicated on the packaging. Those who are very pink or have issues with redness should go for yellow-based face products, as these can help to cancel out the pink and red, providing a neutral base.
When choosing blush or bronzer for a cool skin tone, keep in mind how your face normally colors. Shades of blush that mimic your natural flush after physical exertion will typically suit you best. In general, avoid any peachy blushes with too much gold shimmer or orange tones, although a small amount of these is okay. When choosing bronzer, avoid warm browns and base the depth of the shade on whether you are fair, medium, or dark. Colors that match your skin after you get some sun are often best; anything darker or warmer will typically look unnatural.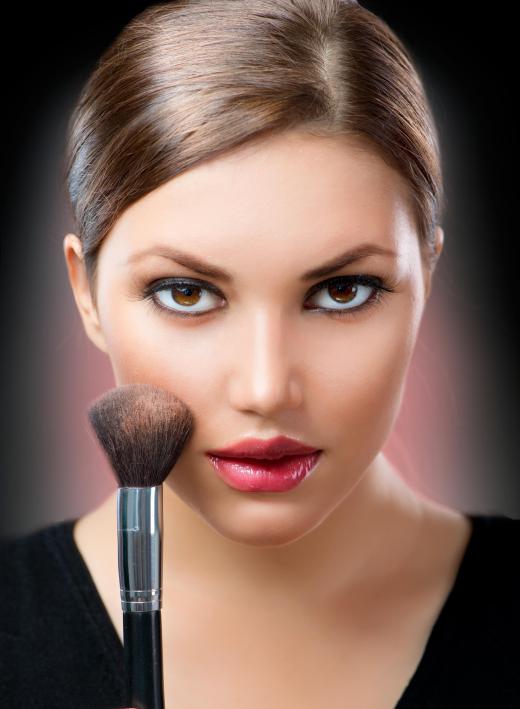 The guidelines for makeup for a cool skin tone are slightly more lax when it comes to eye products. Warmer tones are okay when it comes to eyeshadow and liner, provided that the colors lean more towards neutral than red or orange. For cool skin tones, blues, greens, and purples often look best, and very warm shades of brown should be avoided. Cool pinks will also look good, though you should avoid large amounts of gold or yellow in any shade, as these can make you look washed out or ill.
Lip makeup for a cool skin tone is often comprised of pink and mauve colors. Yellow toned nude colors and orangey-reds can look out of place on the lips. For a red lip, choose colors that have a slightly blue base. Glosses with a silvery or clear finish also often look best.
AS FEATURED ON:
AS FEATURED ON:







By: Vladimir Voronin

Blush is a type of makeup that is often applied to the cheek area to enhance appearance.

By: Subbotina Anna

Whether skin tone is warm or cool plays an important role in choosing the best makeup colors.

By: alex83ch

Pink and mauve lip colors often flatter people who have a cool skin tone.

By: micromonkey

Makeup designed for a cool skin tone should match the natural undertone of the individual's face.

By: Laurent Hamels

Makeup artists often rely on a person's skin tone when applying correct colors to dresses and cosmetic products.