How Do I Choose the Best Primer for Oily Skin?
Using a primer for oily skin is an option for people who have difficulty wearing makeup due to excess oil production. When choosing a primer for oily skin, look for a formula that is specifically formulated to be used by oily skin types. Products that are lightweight and dry with a matte finish will usually be ideal.
Most makeup primers, regardless of their formulas, are great products for people with oily skin. Generally, individuals with oily skin have difficulty wearing makeup, particularly foundation, because the excess sebum produced by their glands leaves skin too slick for cosmetics to adhere well to. Makeup tends to slide right off, making it difficult to achieve a neat, clean look and instead often producing smudged, messy-looking results. Primers act as a barrier between the skin and the makeup, so instead of trying to attach to oily skin, the makeup attaches to the smooth, matte base created by the primer. Consequently, the makeup stays in place much longer when applied over the top of a primer.
Even though most primers will inherently decrease makeup slippage due to oily skin, there are some formulations that are even better suited to the problem than other products. The first thing to look for in a primer for oily skin is a product that is lightweight. Since excess oil tends to clog pores, it is counterproductive to layer on an overly heavy or thick formula that might just aggravate the problem. Rich creams are better suited to very dry skin that needs the extra moisture, but primer for oily skin should be thinner and lighter. A serum-like formula or thin, lightweight cream is generally the best choice.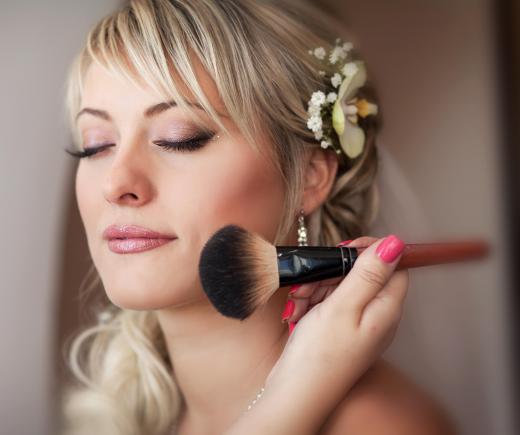 Another characteristic to look for in a primer for oily skin is a mattifying finish. Some products will explicitly say that they dry in a matte finish, so those will be easy to identify and are probably a safe first choice for people who are new to primers. If a formula does not specifically say it dries matte, the primer might still be acceptable for oily skin; sampling a small patch on the back of your hand will give a quick indication of how it looks when dry, as well as how it feels on the skin in general. In general, people choosing a primer for oily skin should stay away from primers that claim to be "illuminating" or to have a "dewy" finish. These products are usually extra-moisturizing and give shine to dry or dull skin, and since most people with oily skin are interested in reducing shine this finish is not ideal.
AS FEATURED ON:
AS FEATURED ON:







By: Mara Zemgaliete

A makeup primer for oily skin.

By: armina

Foundation primers are designed to provide a smooth surface for makeup application.

By: Skazka Grez

Teenagers are more likely than adults to have oily skin.

By: Mikhail Malyugin

Some oil control primers are formulated to keep eyeshadow from creasing.

By: gosphotodesign

Skin care products and techniques should be selected based on skin type, whether oily, normal, or dry.