What Is Matte Foundation?
Matte foundation is a cosmetic formulated to even skin tone and reduce shine. As with other types of foundation, matte formulas are available in powders, liquids and creams. These products are typically oil free, which helps them set quickly and last throughout the day. Matte foundations are usually best for people with oily or acne-prone skin. People with dry or mature skin might need to avoid using matte foundation, as some formulas could highlight wrinkles and dry patches.
The word "matte" means "to be devoid of luster and shine." On its own, a matte foundation will not create a dewy or glowing appearance. These foundations are designed to create flat, uniform skin tones. After a few hours of wear, a person's natural oils may cause the foundation to appear more dewy. Different products like highlighter, blush and bronzer can also be used to add shine to a matte skin tone.
Matte foundations are available in cream, liquid and powder formulas. Many types of mineral and organic foundations are also formulated to create a matte appearance. Years ago, matte foundation was very creamy and thick, which many consumers found too unnatural. In 2011, these formulas are rarely thicker than regular foundations. Even with their thin consistency, matte foundations are still available in coverage levels from sheer to heavy.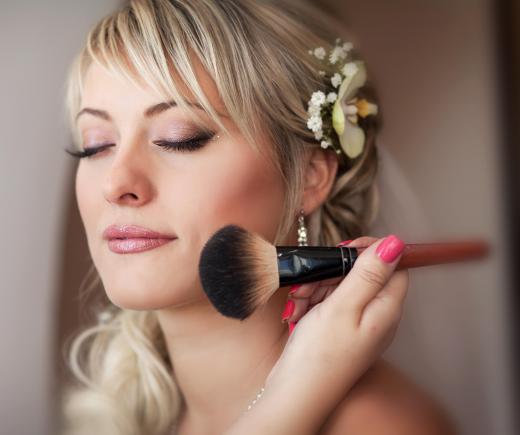 One of the greatest benefits of choosing a matte foundation is that this product generally last longer than other formulas. This is largely due to the lack of oil in these products. Matte foundations dry quickly and stay in place for hours. In fact, many formulas promise to last for up to 24 hours. Since matte foundation does not smudge or run, it will rarely need touching up throughout the day.
A disadvantage of using matte foundation is that it can be difficult to remove. To remove the product, users will need to use a silicone- or oil-based makeup remover. Regular cleansers are not always strong enough to remove long-lasting matte makeup. Failing to properly remove the product might lead to clogged pores and acne.
When paired with an effective cleanser, matte foundations are good for individuals with oily or acne-prone skin. Due to the lack of oil, these foundations are less likely to clog pores and cause breakouts. Many matte foundations also contain oil-absorbing ingredients like kaolin clay and silica. These ingredients allow the makeup to absorb oil and provide a fresh appearance after a few hours of wear.
The drying nature of these products make them unsuitable for certain skin types. People with mature or dry skin sometimes find that matte foundations highlight, instead of camouflage, their flaws. Matte products can collect in fine lines and dry spots, which will draw attention to these areas. To keep this from happening, consumers should moisturize their skin before applying foundation. If this does not create a smoother appearance, users should consider switching to a more hydrating formula.
AS FEATURED ON:
AS FEATURED ON:







By: Mara Zemgaliete

Matte foundation.

By: armina

Matte foundations help to absorb oil and create a smooth appearance.

By: lightwavemedia

Matte foundation must be removed with makeup remover.

By: phasinphoto

Matte foundation may be ideal for oily or acne-prone skin.

By: mikelaptev

Matte foundations dry quickly and stay in place for hours.

By: micromonkey

The shade of foundation is typically chosen based on an individual's skin tone.

By: Doruk Sikman

Failure to properly remove matte foundation may result in clogged pores and acne.