How Do I Choose the Best Foundation for Combination Skin?
Generally, foundation for combination skin is labeled as such. This makes it relatively easy for you to locate it in stores and begin comparing the different types. Though, if your skin is oilier than it is dry, or vice versa, you might have more success searching for foundation created for oily skin or dry skin. Keep in mind that other skin characteristics, such as acne-prone skin or significant scarring or blemishes, will also play roles as you compare foundation types. Consequently, these other considerations can affect the kind of foundation for combination skin you choose, including the vendor, the price, and the quality.
Before you can choose the best foundation for combination skin, you'll need to narrow your options. Perhaps the easiest way to do this is to look only for foundation labeled as being designed specifically for combination skin. You can also talk with cosmetics professionals at department stores about the different types of makeup brands and foundation types they recommend for combination skin. Typically, cream-to-powder foundations work well for people with combination skin, whereas water-based foundations can cause the skin to "shine" and should be avoided. Of course, this all depends on whether your combination skin is oilier than it is dry, and vice versa.
On that note, some people find that choosing foundation based on which characteristic is most prevalent works better than using foundation for combination skin specifically. For example, if you have more areas of oily skin than dry, a foundation for oily skin might work best. People with combination skin that is more oily than dry often have the best results with pressed powder-based foundations, liquid-to-powder foundations, and oil-free liquid foundation. Likewise, if you have more areas of dry skin than oily, consider comparing foundation for dry skin. Examples include cream-to-powder foundations and sheer foundations, as well as tinted moisturizers.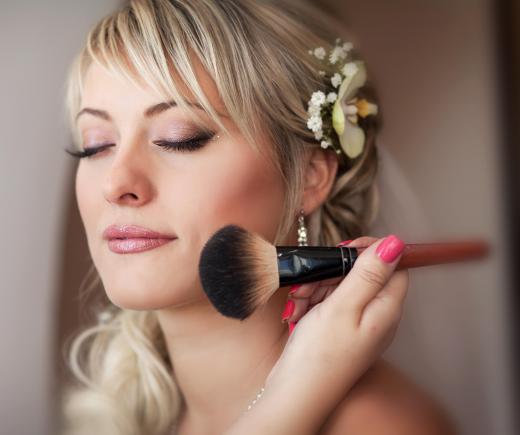 You'll notice that makeup for combination skin, like all makeup, is available from an assortment of companies and brands for varying prices. Generally, department store makeup is more expensive than the foundation you can find in other stores, but price only affects the quality in terms of what works best for your specific skin. This means that in addition to using foundation for combination skin, you'll want to also use foundation formulated to address any other skin conditions. For example, if you have acne-prone skin, you'll want to compare noncomodegenic makeup that won't clog your pores. On the other hand, if you have scarring or other skin blemishes, you'll want to make sure the foundations you consider are designed for matte or full coverage.
Given the number of considerations you must make beyond searching for a foundation for combination skin only, it makes sense to take steps that will help you save money while still getting the best quality. If you're shopping at a cosmetics counter at a department store, you might ask for a sample you can try at home or even a makeover. The same is true if you're shopping with a cosmetics professional who sells makeup for a specific brand; ask about receiving a tester or even a makeover. Sampling the foundation for combination skin before purchasing it can help you save money as well as choose the foundation that's best for you. When these options aren't available, be sure to ask about the store's return policy so you'll know whether you can receive a refund if the makeup doesn't work for you.
AS FEATURED ON:
AS FEATURED ON:







By: Mara Zemgaliete

Foundation for combination skin.

By: armina

Foundations that are bought from department stores are typically more expensive than those sold at drugstores.

By: design56

Sampling different foundations can help people choose the right kind prior to purchase.

By: phasinphoto

Some foundations are formulated for use on acne-prone skin.

By: red150770

BB creams may be used in place of foundation for combination skin, or in conjunction with other makeup.