What are Silk Wrap Nails?
Silk wrap nails are a type of artificial fingernail, a synthetic nail reinforcement that is made from pieces of silk material. Just as in the application of other material nail wraps, the small piece of silken material is cut to the size and shape of the fingernail and applied using a small amount of glue. Once the glue is dry, the silk wrap is buffed to smooth the surface, and the process is complete.
Silk wrap nails are often preferred over other artificial nails reinforcements because they are flexible. Silk wrap nails are often considered to look most like a natural nail, which is another reason they might be preferred over other types of artificial nails. They are thinner than, for example, acrylic or gel nails, which are notably thicker than natural nails. Silk wrap nails are usually not appropriate for those with a particularly active lifestyle. This is because they are thinner and more fragile than other types of artificial nails.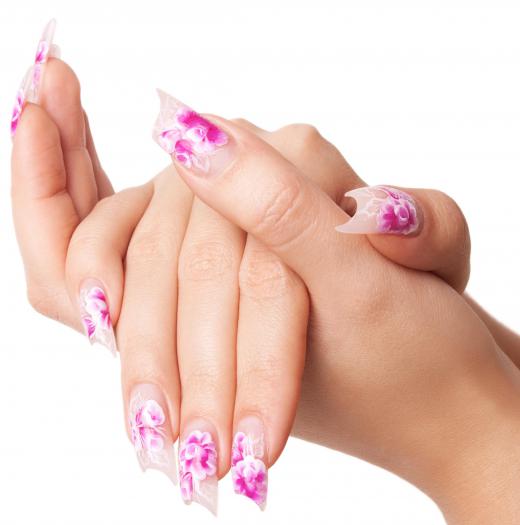 One might choose to apply silk wrap nails in order to protect natural nails that have been weakened, cracked, or otherwise damaged. A silk wrap nail can act as a brace for the damaged natural nail, allowing it time to grow out and avoiding the necessity to cut the nail completely off. Silk wrap nails are usually applied directly over the natural nail. However, they may also be used to bind together a damaged artificial nail such as a plastic tip that has been cracked. If it is too early to remove the other type of damaged synthetic material from the nail, the silk wrap might be used to reinforce the artificial nail until the problem can be fixed. In this case, multiple layers of silk wrap are usually applied over the cracked nail tip.
Although like any nail reinforcement product, silk wrap nails are usually stronger than natural nails, and they can be damaging to the natural nail. This largely depends on the skill of the nail technician in the salon, and whether the wrap is applied, maintained, and removed correctly. For example, if the nail technician is too aggressive with pre-application filing of the nail, or uses too much glue, this can weaken the natural nail.
Another mistake a nail technician can make is lifting the natural nail up, which separates it from the nailbed and presents the risk of fungus growing under the nail. If the technician removes the silk wrap by simply pulling it off, this can also damage the natural nail. Silk wrap nails should be removed by placing hands in a plastic bag with cotton balls or pads that contain a small amount of acetone. After a few minutes, the hands are removed from the bag, the nails are rubbed with a generous amount of cuticle oil, and the silk wrap nails can be gently pulled off when the glue as broken down.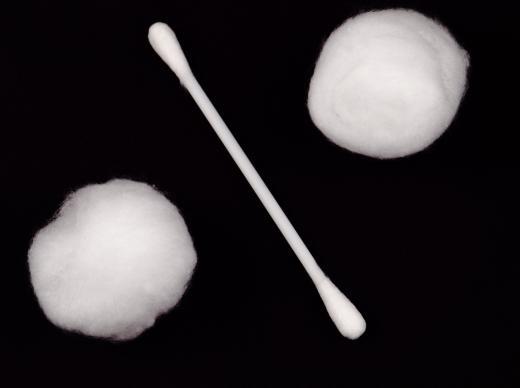 Nail polish may be used over silk wrap nails, though this may defeat the purpose of having chosen the natural-looking silk nail wraps. Cuticle oils or creams should be used to maintain the health of the cuticle and surrounding skin. Other types of artificial nails include paper wraps, fiberglass wraps, linen wraps, gel nails, and acrylic nails.
AS FEATURED ON:
AS FEATURED ON:







By: a1ex76

Silk wrap nails are a form of artificial nails.

By: lily

Real silk fibers are used in silk wraps.

By: sakura

Silk wrap nails are notable thinner than gel and acrylic nails.

By: nick holdsworth

Silk wrap nails should be removed by placing hands in a plastic bag with cotton balls that contain acetone.