What are UV Gel Nail Extensions?
UV gel nails are artificial extensions worn on the fingertips, and they can be applied at home or in a salon as an alternative to acrylics. They use ultraviolet light to cure the gel during the application process. Although the time commitment for application and upkeep is high, wearers can decorate a set according to their tastes and achieve a natural look. Similar to other kinds of fake extensions, they come with their own set of health concerns.
How They Work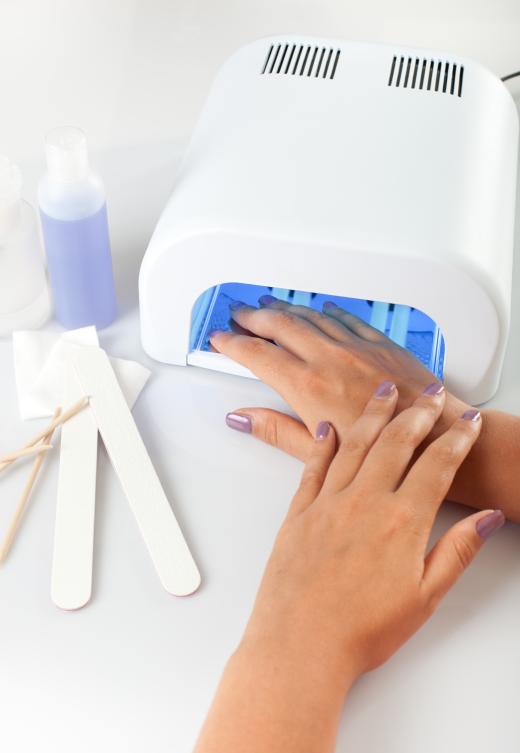 Ultraviolet gel contains chemicals known as photoinitiators that give off free radicals when exposed to ultraviolet light. UV light has a very short wavelength, and people cannot see it with the naked eye. The free radicals released by the gel cause other molecules within the gel to bond with each other, making it stiff.
Application Process
Putting on a set of ultraviolet gels begins with cleaning, buffing, and clipping back the natural nails. Once this is finished, the person doing the application chooses plastic extensions that closely match the surface of the nail bed in shape. She files these extensions down for a more exact fit and then uses glue to attach them about halfway down the real nails.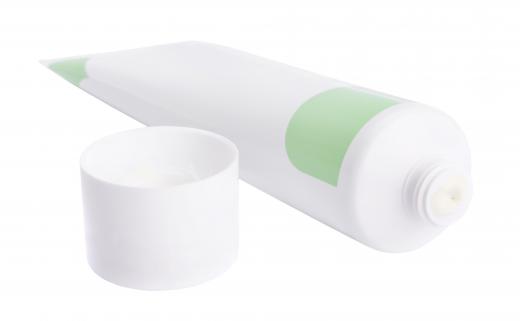 Plastic extensions can be extremely long right out of the package, so once they are secure on the hand, the wearer or manicurist uses clippers to trim them back to a more manageable length. Filing removes most of the noticeable bump between the extension and the real nail. UV gel, which sometimes needs a primer, fills in the gap between the extension and the cuticle and coats the plastic.
After the manicurist or wearer applies the gel, the wearer puts her hand under a UV lamp to start the curing process. Generally, the person putting on the set polishes the extensions with an activator or sealer, which gets rid of any sticky residue that might still be on the nail. Filing down the tips for a natural look is the last step.
Sometimes, wearers opt for no-light gels instead of the more common UV variety. Technicians or wearers put these on in the same way, but the style doesn't require UV light for curing. Instead, a manicurist might brush or spray a curing chemical onto fake tips. With other types, a simple dip of the fingers in water will initiate the curing process.
Removal
Unlike other types of artificial nails, the ultraviolet style won't come off with a soak in remover. To remove a set, the wearer or a manicurist has to file them off. Doing this can be uncomfortable and can damage the real nail underneath, but it eliminates the use of additional chemicals.
Appearance and Decoration
A big reason people like to wear UV gel nails is because they look more natural than acrylics. The length of the plastic used and evenness of filing plays a role here. Plain sets have a glossy, strong, and healthy look that catches the eye. The most common colors for the gel are clear and pink, which are fairly neutral, but they come in many different shades that change how dramatic an undecorated set looks. Wearers also have the option of going for a simple coat of colored polish afterward.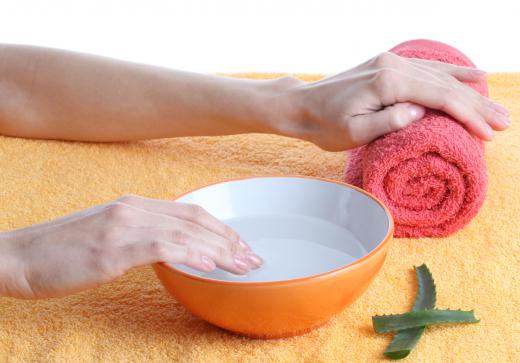 For a look that's more elaborate, some people move past a basic polish and have a technician paint scenes or designs on the nails. A good technician also can put on beads or gems. Some people choose to design just one or two tips on each hand as accents.
At Home or Salon
Most people can learn to apply their own UV gel nails at home. Doing this can be cheaper than going to a salon, but getting started means buying everything the manicurist normally would use, including the ultraviolet lamp. It usually makes more sense to go to the salon when a person wears false UV gel nails only once in a while.
The main reason people go to a salon to get artificials is that they believe the manicurist's experience will mean a more professional result. This isn't always the way it turns out, though. An inexperienced technician can provide a set that looks bumpy, crooked or doesn't last. Additionally, not all salons keep their equipment and spaces as clean as they should.
Strength and Durability
In general, acrylics beat out UV gel nails in terms of how much of a beating they can take. Using high-quality products and adhering to the manufacturer's curing recommendations results in a stronger set, however. When this type of artificial breaks, it may shatter, making a simple repair with glue hard to do.
If properly applied and cared for, a set of UV gel nails lasts about three and a half weeks. After that, the growth of the real nail means space starts to appear between the gel and the cuticle. At the very least, wearers have to touch this up and fill in the gap with more gel.
Time Commitment
Depending on the exact type of product and strength of the lamp used, a gel coat takes anywhere from two to six minutes to cure and harden. A layer of gel is thin, however, so generally, the technician or wearer puts on and dries several coats. A new set typically takes up to two hours to complete because of this, and a touch up and refill can still take about 45 minutes.
Cost
The cost of getting artificials of this type depends on the quality of the products used. If a person has them applied in a salon, then the location of the salon and the experience of the technician contribute to the cost, too. The initial application costs the most, but the cost of refills quickly adds up and often is what drives people to start doing their own artificial nails at home.
People who choose to do their own UV gel nails at home will need to buy the plastic extensions, UV gel, curing lamp, and other products, like files and polish. The expense of this equipment can add up quickly.
Health Considerations
The ultraviolet lamps people use for this type of artificial extension are not much different than tanning beds. They can damage the skin, and although more research is necessary to confirm a direct link, experts are concerned that using the lamps too often increases the risk of skin cancer. To reduce the odds of getting sick, health professionals recommend using sunscreen on the hands, especially around the cuticle.
Artificial extensions cover much of the real nail and eliminate its ability to "breathe." Fungi can sometimes grow under the plastic. Once a person takes the artificial nails off, the real nails might be painfully sensitive because they haven't been exposed to the environment. Another concern is that the ultraviolet curing process can get quite hot, and some people find it painful. Bringing the hands closer to the UV lamp a little bit at a time, coupled with putting the fingers in front of a small fan, can reduce or eliminate the pain that sometimes accompanies the process.
What Is UV Gel Used For?
UV gel is used in the process of applying gel nails. You or your nail technician will place the UV nail gel directly over your natural nails, using an applicator like you would with nail polish. The gel provides the strength and durability that acrylic nails have. The clear gel has a thin consistency and protects your nails from blemishes that can occur when you do tasks such as washing dishes or typing on a laptop.
What Are the Benefits of UV Gel Nails?
There are a lot of benefits to using UV gel on your nails. First, UV gel lasts a long time. Regular nail polish only lasts for a few days, even when you do your best to keep the color fresh. On the other hand, gel nail polish lasts an average of two weeks and may even last up to two if you take very good care of your hands.
Gel polish also protects your nails. If you have weak nails, acrylics may be too tough on them. Of course, leaving them bare leaves them exposed to the daily damage your hands take, though. UV nail polish is a good solution because it protects your natural nails without doing the damage that acrylics can.
Finally, UV nails look and feel like your natural nails. Acrylics are often easy to spot, but gel nail polish uses such thin layers that the nail is as flexible as it would be if you didn't have any polish on at all. The lack of rigidity provides a more natural feel as well.
How To Use UV Gel on Nails
Applying UV gel on the nails is quite simple. It comes in a bottle that looks just like traditional nail polish and is applied in the same way. Use the brush to cover each of your fingernails in a thin layer of the clear gel, avoiding getting the gel on the skin itself. You can prevent this from happening by first using a cuticle pusher to outline the outside of your fingernail. After you apply the gel, you'll need to dry it under a special UV light for about two minutes.
After the first coat of the gel is dry, apply a second coat to each of your fingernails and dry them under the light for an additional two minutes. Finally, to protect the gel nail polish you used, you'll need to apply a clear topcoat to each of your nails. Once applied, avoid using your hands as much as possible for at least 30 minutes so that the topcoat can try thoroughly. Finish up by using a cotton swab dipped in cuticle oil to oil your cuticles and create a sleek look.
How To Remove UV Gel Nails
If possible, have a professional remove your UV gel nails. Doing it by yourself can be tricky and if you mess up, it can even cause your nails to become weaker. However, if you must remove them by yourself, it is important to follow the steps exactly. Avoid using aggressive scraping or peeling motions, which can pull off layers of your fingernail in addition to the polish itself.
Head to the nail section of your favorite beauty or department store and purchase a dedicated gel remover or 100% pure acetone. Keep in mind that gel remover is more expensive but is usually the better option since pure acetone is not as gentle.
Once you purchase what you need, you must follow several steps to remove the UV gel nail polish. First, use a coarse nail file to buff the surface of the gel and break through the clear topcoat. After this, if you're using a dedicated gel nail polish product, follow the manufacturer's instructions.
If you are using acetone, soak a cotton ball in it, place it on top of your nail, and wrap foil around it to keep the cotton ball in place. Do this with all of your nails. Once every nail is covered, you'll need to sit for about 15 minutes while you wait for the product to work. When you slide the foil and cotton balls off of your fingers, the gel should crumble. If it doesn't crumble yet, you'll need to soak your fingers for a little longer.
If the gel is crumbling, use a cuticle pusher to push the rest of it off of your nail. After you remove the color, some of the original clear UV gel may still be on your nail. You can remove this by washing your hands thoroughly and then smoothing it out with a four-sided buffer. Once you're done, use moisturizer and cuticle oil to rehydrate your nails and keep them healthy and beautiful.
How To Remove UV Gel Nails
You need to have the right supplies, techniques, and some patience to successfully remove your UV gel nails. It is key to not hurt your natural nails, so allow yourself the time and practice. The needed supplies include a nail file, 100% pure acetone, cotton balls, and aluminum foil. Cuticle oil is also beneficial to protect the surrounding skin from the drying effects of acetone. Keep in mind that the strong fumes of acetone can be bothersome, so try to use it in a well-ventilated area.
Follow these steps for proper removal:
Begin by using a coarse file to buff the nail. This should not require too much effort as you are just looking to take the shine off.
Apply the cuticle oil to the surrounding skin. Petroleum jelly can also be used as an alternative!
Soak a cotton ball in the acetone and place it directly on the polished nail.
Wrap an approximately 3-inch by 3-inch piece of aluminum foil around the nail to fix the cotton ball in place. Repeat this process for all nails.
Sit with wrapped nails for at least 15 minutes while the acetone works its magic. Additional soak time may be needed, but do not soak longer than 30 minutes.
Slowly pull the foil off while pressing the nail to try to drag as much polish off with it. The gel should easily scrape off and start to crumble. 
Never try to just pick or bite the UV gel polish off. Picking at it can result in damage to the nail bed, which will leave your nails vulnerable to peeling and even pain. You want your manicure to feel good from start to finish.
How To Cure Gel Nails Without a UV Light
The best way to have a gel manicure sans light is to try non-UV gel polish. This is applied like regular lacquer polish. Once applied to the nail, it dries within a few minutes by itself. However, always double-check the polish label to ensure it reads no UV light is required. Many nail polish brands offer such products, so you have a variety to choose from. Curing without a light is the healthiest option as it avoids the powerful ultraviolet rays altogether, so there is no chance of causing damage to your skin.
There are a few other tricks to cure gel polish without the use of light. You can attempt spraying cooking oil directly on your freshly painted nails or submerging them in ice water. Both of these processes may sound like a quick fix, but in reality, they actually can take several hours to truly dry and set the nails.
Are UV Gel Nails Better Than Acrylic?
There are many differences between acrylic and UV gel nails. Acrylic is a powder and liquid mixed to form a hard nail. The acrylic nail is shaped and formed right on your finger during the manicure. Gel is already a mixed liquid that is cured on the nail allowing it to remain soft and more flexible. Gel also tends to be more natural-looking.
Determining whether UV gel polish is better than acrylic is really up to the consumer's preference. To better decide, think of the health of your nails. If your nails are brittle, the flexibility of UV gel can help prevent breakage. On the other hand (no pun intended!), if your nails are soft or prone to splitting, acrylic may make a better option to provide strength. You really can't go wrong either way, and a fresh manicure is always a nice boost to your self-esteem.
AS FEATURED ON:
AS FEATURED ON:







By: Antonio Gravante

Gel nails curing under a UV light.

By: StockPhotosArt

Following a UV gel manicure, it is important to keep the hands moisturized.

By: starush

Nail primer helps polish bond to the nails so that manicures last longer.

By: sakura

UV gels nails are the primary artificial nails alternative to the more traditional acrylic nails.

By: Photographee.eu

Applying a set of ultraviolet gel nails begins with cleaning and buffing the natural nails.