What are Synthetic Hair Extensions?
Hair extensions are a type of cosmetic product that alters the appearance of natural hair by making it appear longer, thicker, layered, or simply a different style. They can be made with two different types of material — human hair and synthetic hair. Human hair extensions are made from real human hair, while synthetic ones are manmade from a variety of synthetic fibers. The primary advantage of synthetic hair extensions is affordability, as they tend to cost far less and are more readily available.
Synthetic hair extensions are often designed as "clip-on" pieces, meaning that multiple strands of synthetic hair are gathered together and tethered at the ends with a mechanism that will attach the strands to the natural hair. While human hair extensions can be permanently bonded to the natural hair, a salon service referred to as "weaving," synthetic products are rarely permanently attached, though they can be. Since they do not wear as well as human hair, these extensions last only a few weeks to months if worn and styled everyday.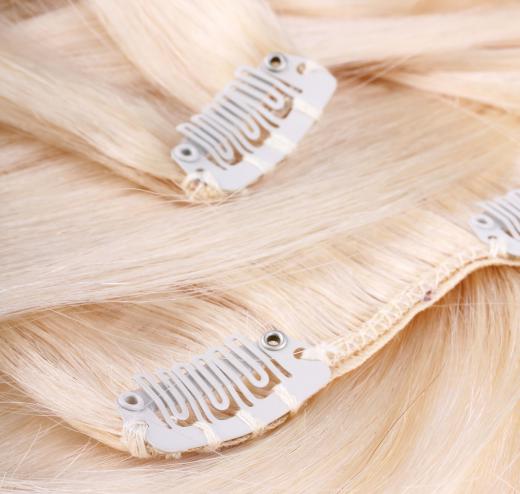 The biggest benefit of synthetic hair extensions is the price. Women often use hair extensions to achieve a specific hairstyle for special events, such as weddings and other formal occasions where up-dos are stylish and popular. By styling hair with extensions, these more formal hairstyles are possible even for people with shorter, layered hair. Synthetic hair also doesn't react to weather conditions the way human hair does, meaning hairstyles don't droop or frizz in rain and high humidity.
Unlike human hair extensions, synthetic hair cannot be color treated and does not do well with high heat styling tools. It is available in a wide variety of colors and textures, however, making choosing the right product for the intended style simple. These hair extensions can also be purchased at most beauty supply stores for people who prefer to attempt attaching and styling the hair themselves.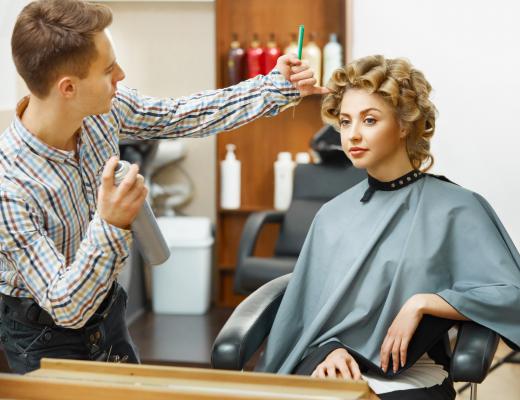 Those who are looking for a more permanent style may find that synthetic hair extensions can be fused with natural hair several strands at a time, but people should keep in mind that through daily washing and styling, the hair will last only one to three months depending on the quality of the fibers. For semi-permanent extensions, it's best for individuals to consult a professional hairstylist for advice about how to care for them and make sure they are attached properly. Clip-on extensions can be removed and reattached as the wearer likes and for as long as the hair remains in good condition.
AS FEATURED ON:
AS FEATURED ON:







By: pavel Chernobrivets

Blonde hair extensions.

By: RTDS

A stylist putting in hair extensions.

By: puhhha

Hair extensions may be added with the assistance of a stylist to create different looks.

By: alarsonphoto

Hair extensions can be sewn or braided into or clipped or bonded to naturally growing hair.

By: prudkov

Hair extensions may be particularly beneficial to individuals experiencing severe hair loss.

By: tolstnev

Synthetic extensions are often bonded to natural hair using heat.