What Are the Basics of a Manicure and Pedicure?
The basics of a manicure and pedicure include nail trimming and shaping, cuticle maintenance, hand and foot moisturizing, and nail polishing, if preferred. The typical home manicure and pedicure, which is a popular alternative to expensive salon treatments, consists of these simple steps and can be easily done with a few nail-care tools. While much of the emphasis on manicures and pedicures is focused on women, men also often include a basic manicure and pedicure as part of keeping the hands and feet healthy and well-groomed.
Nails that have grown too long are usually the first area of focus for a manicure and pedicure. Some people prefer to first cut off the excess nail growth with nail clippers, though this practice can often lead to excessively sharp nail edges. Trimmed nails are then typically smoothed with a nail file. This step can be done with either a disposable emery board or with a metal nail file. Some professional nail technicians caution against the use of metal files with extra rough grains because they can sometimes leave jagged nail edges. Once the fingernails and toenails are correctly filed and shaped, the powdered residue from the filing needs to be wiped away from the hands and feet before moving onto the next steps.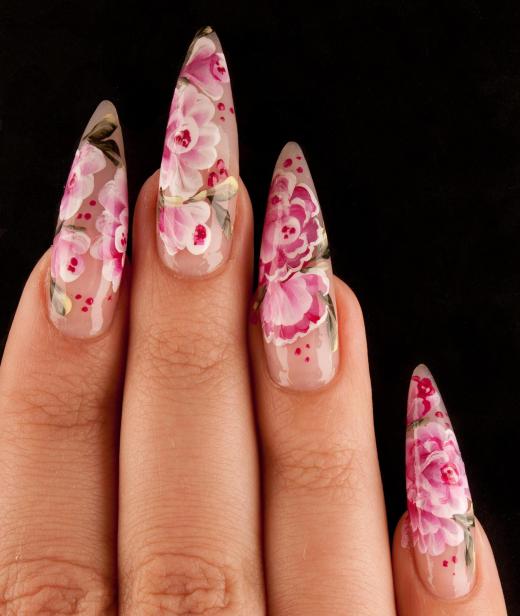 Soaking the feet in a basin of warm water is usually the next pedicure step, and this can be done in a portable foot spa basin or in the bathtub if one of these basins is not available. The water both clears away the nail filing residue and softens any callused foot skin to make it easier to exfoliate. While the feet are soaking for about ten minutes, the fingers also usually need to be soaked in a bowl of warm water for roughly three to five minutes to soften the cuticle skin. Once the feet and hands are sufficiently soaked and dried, the cuticles of both can then be exfoliated and moisturized.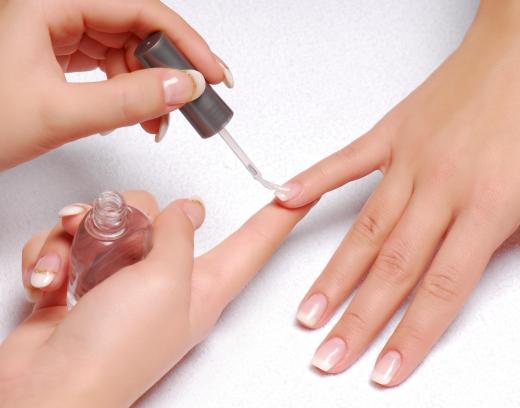 Excessive cuticle skin on the nails usually appears as a white coating near the base of each nail. Some nail technicians recommend gently exfoliating this skin away with a damp washcloth rather than pushing the cuticles back and trimming them off. Cuticle trimming is easily overdone and can sometimes result in an infection from removing this protective layer. Moisturizing can generally be done with any type of lotion since most work as well as any type of cuticle cream. The basic manicure and pedicure is then finished off with a polish application, if preferred.
AS FEATURED ON:
AS FEATURED ON:







A manicure done with artificial nails.

By: Valua Vitaly

A woman getting a manicure.

By: Couperfield

A manicurist giving a person a paraffin wax treatment.

By: Yuri Arcurs

A woman getting a pedicure.

By: Valua Vitaly

Toenails with a French pedicure.

By: Antonio Gravante

A person getting a manicure.

By: ibphoto

Nail clippers.

By: StockPhotosArt

The final step in both a manicure and pedicure is applying moisturizer to the skin.

By: Valua Vitaly

Manicure and pedicures are often finished with an application of nail polish.

By: Valua Vitaly

Cuticle maintenance is a component of most manicures and pedicures.

By: terex

During both a manicure and a pedicure, the nails are shaped using a nail file after clipping.