What Are the Benefits of Using Salon Flat Irons?
Many hairstylists recommend using salon flat irons to straighten wavy hair and smooth coarse hair texture. Using a flat iron is an option for anyone who wants to temporarily transform a curly hairstyle into a straight one. Salon flat irons may also reduce static electricity, as well as control frizzy hair and add shine. There are various types of flat irons to choose from, each with different features.
Flyaway or frizzy hair can be difficult to manage. This is especially true for those who have thick and coarse hair. Using a salon flat iron can help control unmanageable hair, especially during humid conditions. When shopping for salon flat irons, it's common to find different types with various features. A basic flat iron will have metal plates that use heat to flatten and straighten the hair. Most basic salon flat irons tend to be less expensive, because of the lack of features.
People with frizzy and flyaway hair may find that a ceramic flat iron works best. Ceramic flat irons use ionic technology, releasing negative ions when heated. Negative ions can reduce static electricity that often leads to over-dry hair. When hair becomes dry from excessive styling, breakage can occur. Using an ionic flat iron may prevent hair from becoming brittle and prone to breakage.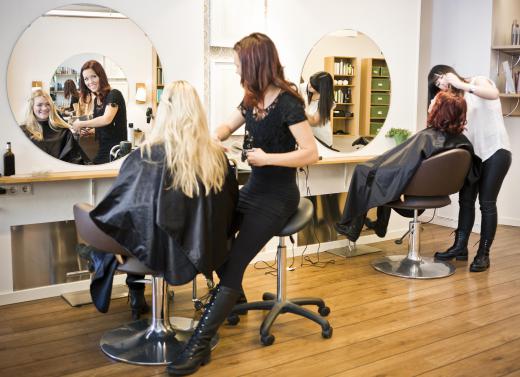 To maximize the effect of an ionic flat iron, it's best to choose one made of tourmaline. A tourmaline flat iron can be expensive, but the results may be worth it. Tourmaline flat irons distribute heat more evenly, so ends are less likely to become damaged. As the hair is straightened, moisture is retained, resulting in more softness and shine.
Tourmaline salon flat irons may reduce bacteria on the scalp. As a result, salon flat irons with tourmaline technology may leave hair and scalp looking healthier. In addition, the infrared heat of ceramic flat irons will dry hair faster.
Another benefit of using salon flat irons is the versatility it allows. Many flat irons come with removable ceramic plates in various widths, for achieving different hair styles. Wider width plates may be best for fine or thin hair, as these tend to add more volume while straightening. In addition, the different sized plates are designed to accommodate short, medium, and long hair. Most salon flat irons come with styling instruction booklets, making it easy for first-time users to achieve the desired results.
AS FEATURED ON:
AS FEATURED ON:







By: Daria Filiminova

Flat irons help to seal and smooth flyaway hair.

By: gemenacom

Hair salons typically use the most well-made and expensive hair irons.