What Are the Different Types of Gel Nail Supplies?
The different types of gel nail supplies are the gel acrylic product itself, an ultraviolet (UV) lamp to cure the applied gel properly, an application brush for the gel acrylic, liquid nail primer, and the needed manicure supplies for nail preparation. Prior to applying artificial gel nails, the manicurist typically needs to prime the nails by filing them into even shapes and exfoliating any excess cuticle skin.
Soap and water are usually used to thoroughly clean both the client's and the technician's hands at the beginning of this service. The process of applying gel nails is similar to that of traditional acrylic nails. The gel acrylic product is simply different in chemical composition and only cures correctly under a UV light source.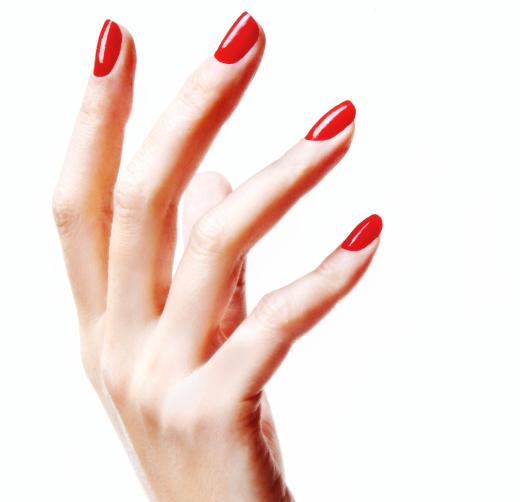 Basic nail preparation supplies generally include an emery board, cuticle stick, cuticle cream, and nail basin for soaking the cuticles. Before applying the liquid primer for artificial gel nails, the top of each natural nail needs to be lightly buffed with the emery board to remove the oil from the surface. Primer is an important part of a set of gel nail supplies because it allows the gel compound to correctly adhere to the nail surface without lifting. Incorrectly applied gel nails that lift from the natural nail often carry the risk of fungal infection. Excess cuticle skin is also usually softened, exfoliated, and moisturized for the cleanest overall look to the finished nails.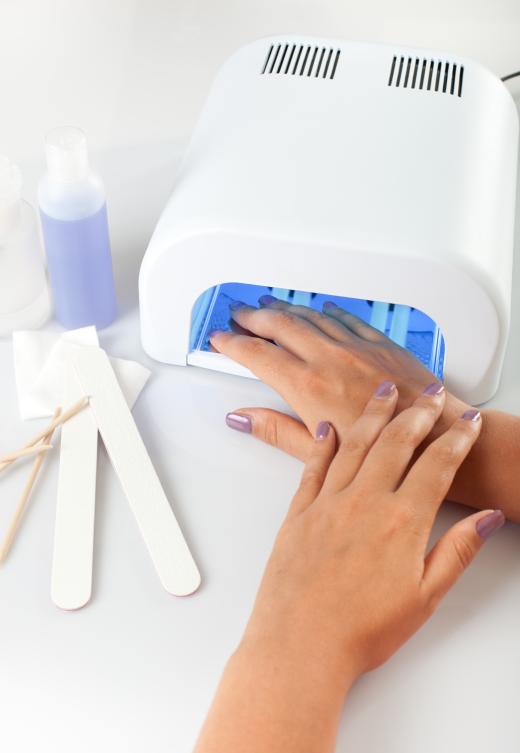 A professional gel nail kit includes liquid primer, gel compound, a set of acrylic tips, and adhesive to hold the tips firmly in place. Many primers and gels come with brushes attached to their screw-top lids in a similar manner to nail polish bottles. Experienced nail technicians may opt for adding a separate application brush to their gel nail supplies because these brushes tend to be of a higher quality. Other needed gel nail supplies include a specialized cleaner for removing all primer and gel from brushes, as well as the UV lamp specifically designed to quickly cure gel nails.
The UV lamp needed to cure gel nails typically completes the process in roughly three minutes per application. Some nail technicians prefer to brush on one thin coat of gel and then have their client hold her hand under the lamp for only one minute at a time. Seasoned manicurists often keep a set of spare UV lamp bulbs with their gel nail supplies just in case one burns out during a gel nail service.
AS FEATURED ON:
AS FEATURED ON:







By: cardiae

A woman with gel nails.

By: Antonio Gravante

Gel nails curing under a UV light.

By: Valua Vitaly

A cuticle stick is a basic nail supply that is used to gently push back cuticles.

By: Coprid

Before applying gel nails, the fingernails should be cleaned with a fingernail brush.

By: starush

Nail primer helps polish bond to the nails so that manicures last longer.

By: terex

A UV gel nails kit should include nail files.