What is Professional Nail Polish?
Professional nail polish is polish formulated to adhere to the nail better and last longer. Regular nail polish is generally more prone to chips and peeling than professional nail polish because it is usually made with lower-quality ingredients to save cost. The professional-quality polish is made with higher-quality products and normally tested longer to ensure the quality before it is marketed.
Additives in professional nail polish make it less likely to separate or thicken in the bottle like some regular polishes are known to do. Professional polish is more likely to go on evenly and with less air bubbles, creating a smooth finish. Some nail polishes have special additives that cause the polish to harden while it dries to create a sort of shield for the nails. Others are made with moisturizing benefits to help nails grow.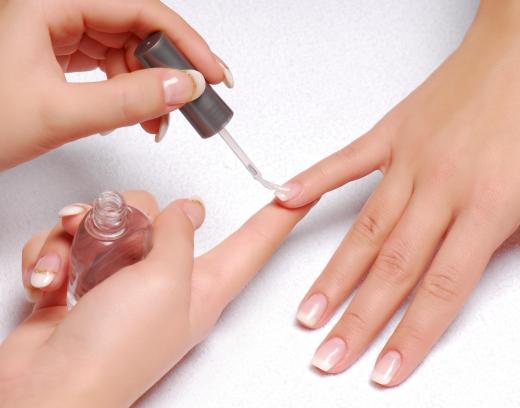 Since professional nail polish is typically made with higher-quality ingredients, it is also generally more expensive. In some areas, it may also be difficult to find professional-quality polish without having it shipped for extra costs. In most areas, however, professional nail polish can be purchased in nail salons and beauty supply stores.
Gel polishes are a fairly popular type of professional nail polish. These polishes create a thicker protection than most other polishes and very rarely chip or flake. To apply gel nail polish correctly, an ultraviolet, or UV, light is needed to "cure" each layer—to remove the polish, it must be soaked in polish remover for several minutes. This type of polish is generally meant to be applied in a professional salon, but may also be done at home with the right supplies and a little practice.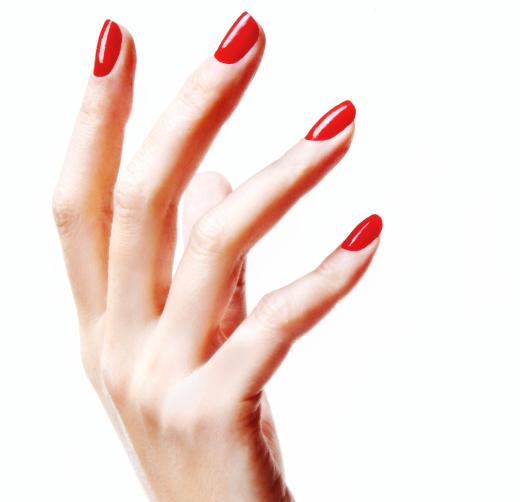 Professional nail polish comes in many different colors and is made by many brands. Choosing the best polish may take some time. Brands seen in local nail salons are generally good to try first, and it may even be a good idea for individuals to talk to a professional nail artist to learn some tips.
Although professional nail polish is designed to adhere better and last longer than regular polish, proper nail preparation and care is still recommended to get the best results. This includes shaping the nails, pushing back the cuticles, and applying a base coat before applying the polish. Removing all old nail polish and using a primer to remove oils from the nail surface are also generally good ideas to start with a clean nail for the polish. After painting, a clear top coat can protect the polish from chips, and the nails should be allowed to dry for at least an hour.
AS FEATURED ON:
AS FEATURED ON:







By: Valua Vitaly

A nail technician using professional clear nail polish on a woman's fingernails.

By: cardiae

A woman with professionally painted nails.

By: Antonio Gravante

Gel nails curing under a UV light.

By: Africa Studio

Clear nail polish.

By: Maksim Kostenko

Metal orange sticks are used to push the cuticles back.

By: larisabozhikova

Professional nail polish typically is designed to be long-lasting.

By: starush

Nail primer helps polish bond to the nails so that manicures last longer.