What Are the Pros and Cons of Putting Vaseline® on Eyelashes?
The benefits of putting Vaseline®, a brand of petroleum jelly, on eyelashes are somewhat controversial, but in most cases pros concern beauty benefits while cons include clogged pores and allergic reactions. Many people believe that petroleum jelly can condition eyelashes and can help them grow longer, thicker, and stronger; it's also claimed that the jelly's moisturizing properties can help the sensitive skin around the eyelid stay smooth and supple. The product is somewhat greasy, however, and is thick enough to block airflow to the skin's pores. This can cause greasiness and smudging, and can make it hard to evenly apply makeup; in some cases it can also lead to acne and skin reactions.
Moisturizing and Conditioning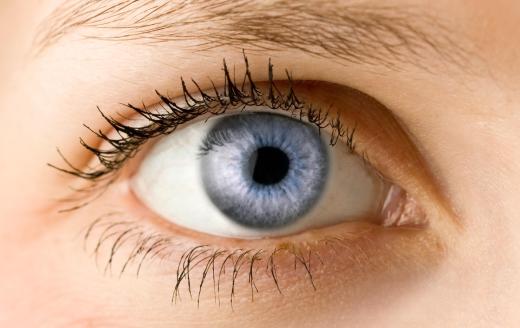 Vaseline® contains several moisturizing emollients and humectants that have the ability to moisten the skin and condition human hair follicles. The jelly is popular as a lip balm for this reason, and many believe that it can also make individual lashes grow stronger and healthier by sealing in moisture and improving the strength of the cellular bonds that make up each strand. It should be noted that none of the jelly's listed ingredients has ever been proved to cause hair to grow any longer, faster, or thicker, but softening and conditioning the eyelashes may prevent breakage. In turn, this allows the eyelashes to grow to a longer than usual length. For people with dry, brittle eyelashes, the extra conditioning may make a noticeable difference.
Cosmetic Appeal
Some people lightly dab Vaseline® on eyelashes in place of mascara for a less dramatic "day look." The jelly can help the lashes appear longer and thicker which can make the eyes look wider, but without the use of actual makeup. Others apply a very thin layer to both the eyelashes and eyelid, providing a sticky base for eye makeup. Mixing a bit of powered shadow or rouge with the jelly can create something of an "eye gloss" that can help makeup stick to the lashes and lids more effectively. This is intended to allow the makeup to last longer, but some women who have tried it complain that it causes the makeup to smear. Putting mascara on over Vaseline® is often particularly problematic.
Vaseline® is sometimes used as a low cost makeup remover because of how well makeup sticks to it. Stubborn mascara or eyeliner can often be taken off relatively easily by dabbing a bit of jelly onto the problem areas, then finishing with a mild soap and warm water.
Greasiness and Pore Problems
Greasiness is one of the biggest cons of Vaseline® on eyelashes. The substance is thick and goopy, which can sometimes cause the lashes to clump together. This can make it difficult to see clearly and also may prevent the eyes from blinking regularly if worn too thickly.
The jelly can also clog pores on the eyelid. Pores naturally open and close in response to moisture levels and environmental triggers, and when they can't do this because of blockage the oils that the skin naturally secretes can become trapped below the surface, causing acne or itchy rashes. Additionally, it is possible that Vaseline® could clog tear ducts and other glands, causing eye irritation, styes, or a number of other problems.
Adverse Reactions
Allergic reactions to Vaseline® are rare but possible. People with really sensitive skin tend to be most at risk, and in these cases it's often a good idea to apply a bit of the jelly to the back of the hand or other area of skin away from the eye to test for reactions. As with any foreign substance, there is always a risk of eye irritation. Before applying any new substance near the eyes, one should always check the list of ingredients for anything to which he or she might be allergic.
Tips and Tricks
The best way to apply Vaseline® to eyelashes is usually to use a cotton swab, a lash brush, or a cleaned mascara wand. Using the fingertips can work, but usually only if the hands are freshly cleaned; transferring oils from the hands to the eyes can cause problems where Vaseline® is concerned, since the jelly can seal those oils onto the skin, which makes irritation and reaction more likely.
People often find it best to apply the jelly at night, too, letting moisturizing and conditioning happen during sleep when the eyes are still. This way even if the jelly causes the eye area to look greasy and shiny it won't be a problem. Some people also claim that allowing it to work overnight helps them wake up looking more refreshed and rested.
Does Putting Vaseline On Your Eyelashes Work?
Vaseline is a household ingredient many people have, and it can help with many beauty issues as well. One of the best things about vaseline is that it is inexpensive, so you can always have some on hand.
Vaseline is an occlusive product, which means it holds moisture. There are many uses for vaseline in the beauty industry, like lip balms and skin moisturizers. If you have chapped skin or lips, use vaseline to help these areas become more moisturized and healthy. It also soothes irritation. If you are dealing with this, you can try vaseline.
Putting vaseline on your eyelashes helps keep them moisturized and appear fuller. Your skin has a low chance of reacting poorly to it, though you should consult with your doctor if you have existing eye issues.
Putting vaseline on your eyelashes will help them look healthier and lusher, making them look fuller. It will also make your eyelashes less likely to fall out due to dryness or brittleness. For the best effect, use vaseline after taking off your makeup. Vaseline also pairs well with other skincare products, so you don't have to alter your skincare routine to use this. You can also use vaseline in place of mascara since it provides a fresh, dewy look to them. If you want to use mascara, you can also use vaseline as a basecoat to help it last longer.
How To Use Vaseline On Eyelashes
Before applying, cleanse your hands to ensure they are clean and you aren't spreading bacteria around your face and eye area. Trapping bacteria near the eye area is a concern when using vaseline on eyelashes. To avoid this, make sure your face and hands are clean.
Next, you'll want to clean your eyelids and make sure your eyelashes don't have mascara or soap on them. The best way to apply vaseline is to use a cotton swab since you work with a small area. Apply the vaseline to the swab and apply the product to your upper and lower lash lines. You don't need much, so there is no need to put more product on them.
Next, you want to use the other side of the cotton swab and apply a little vaseline to your lashes. Try applying while blinking to get the best result. If you put the product on at night, gently remove it in the morning by using makeup remover or warm water.
Keep in mind that vaseline is thick and can feel heavy. If you think it feels dense, try applying less. If you happen to get it in your eyes, use a natural tears eye drop to help rinse it away.
Does Putting Vaseline On Eyelashes Help Them Grow?
Putting vaseline on your eyelashes does not help them grow faster or longer, but it does help them stay moisturized. It can also give the appearance of thicker, shinier lashes, which helps if you have sparse lashes. Vaseline also allows your eyelashes to grow to their natural length before falling out. Regular use of mascara can dry out your lashes and make them fall out prematurely.
However, if you want your eyelashes to grow much longer than usual, you will have to use more specialized products. To help lashes grow, try:
Regular cleansing: While it may sound simple, ensuring you have a cleansing routine can work wonders for your eyelashes. Keeping them clean and healthy is the first step to helping them grow. If you decide to use vaseline, you need to ensure you are cleansing everything because it is a thick substance. It can get into your tear ducts and irritate them if not cleaned properly.
Lash serums: Lash serums are another popular choice when growing lashes. There are over-the-counter and prescription options for lash serums. Both products help extend the lifespan of your eyelashes. Eyelashes have a natural shed cycle, which means they will fall out naturally after reaching a certain length. When using a serum, the shed cycle extends. It makes your lashes much longer before falling out.
If you don't want to wait for your lashes to grow, you can also get lash extensions. These are becoming more popular, and there are many places you can have this service done. You can have the extensions customized to your needs and style. You can choose to have thick, long lashes or more subtle lashes that give your eyes more fullness. If you want longer lashes, determine your budget and needs to see if using a serum or extensions is best for your lifestyle.
AS FEATURED ON:
AS FEATURED ON:







Vaseline® can be difficult to remove from the eyelashes.

By: blueee

Vaseline®.

By: Graça Victoria

Vaseline gives lashes a thicker, more appealing effect.

By: gromovataya

Vaseline on eyelashes can clog tear ducts and potentially lead to styes.

By: bedya

Putting mascara on over Vaseline is often particularly problematic.