What are Tourmaline Hair Styling Tools?
Women (and men) are always searching for newer and better methods of looking their best. Hair styling tools are a multimillion dollar industry, and engineers are always developing new and improved tools utilizing cutting edge science. Before tourmaline hair styling tools hit the shelves, ceramic coated flat irons and curling irons were the gold standard. Now, tourmaline technology is available in a variety of hair styling tools, in a wide price range.
Tourmaline is the general name of a group of minerals that are related in structure, but not necessarily in composition. Also known as complex aluminum borosilicate, tourmaline has been adapted to hair styling tools because of a unique property it has when heated. When it is heated, it exhibits pyroelectricity, where one end is positively charged, and the other is negatively charged.
When used in tourmaline hair styling tools, the crystal emits negative ions — six times more than only ceramic styling tools. These negatively charged ions actually help smooth hair by sealing the cuticles, and helping the hair to retain moisture. Hair styling tools made with tourmaline are of particular use for people who have thick, frizzy or textured hair, or for those who blow dry, straighten or curl their hair on a regular basis. By sealing the cuticle, hair appears smoother, shinier and healthier. Tourmaline hair styling tools also are smoother than typical ceramic, creating less friction as the hair is pulled through the tool. As a result, hair is better conditioned and suffers less damage due to the frequent heat of styling. In addition to better results, fewer styling products are needed to achieve the smooth, shiny look many women look for when blow drying or straightening their hair.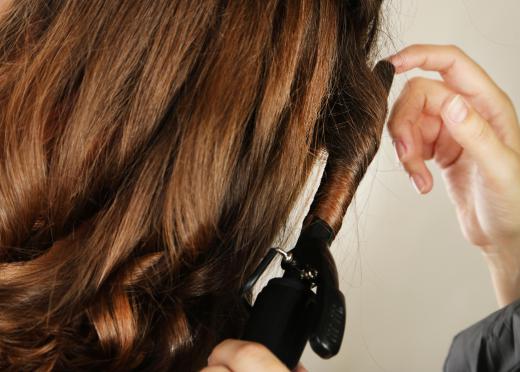 The crystal is typically crushed or ground, then applied in a variety of ways to the tourmaline hair styling tools. It may be "infused" into a ceramic coated flat iron or curlers, or are applied in a thin coat over the ceramic. In hair dryers, tourmaline is ground up and coats the inside of the dryer.
Tourmaline is used in a variety of tools, including flat iron hair straighteners, curlers, and hair dryers. You can find these at your local drugstore, all the way to high end beauty supply stores, ranging in price from around $20 US Dollars (USD) to over $200 USD.
AS FEATURED ON:
AS FEATURED ON:







By: Daria Filiminova

Some hair styling tools, like flat irons, use tourmaline to help improve hair health.

By: Africa Studio

Curling irons that utilize tourmaline heat technology are recommended to ensure hair remains healthy.

By: Laurent Hamels

The use of tourmaline hair styling tools typically cause less damage to the hair.

By: edwardderule

Sealing the cuticles in hair helps promote hair that is shinier and healthier.