What Are the Different Hair Styling Tools?
Some of the different hair styling tools are heat styling tools, brushes and combs, and no-heat curlers and twisters. Common heat styling tools include flat irons, hair dryers and curling irons. Brushes and combs are some of the most commonly found hair styling tools that are used around the world. For people who prefer to style their hair overnight, no-heat curlers and twisters are designed add temporary curls or waves to hair without introducing heat. Small hair accessories like bands, clips, and ribbons are also tools used to create and hold hair styles.
Flat irons, hair dryers, and curling irons generally fall under the category of hair styling tools that use heat. Though they all have different functions, each uses varying amounts of heat to manipulate hair; flat irons are designed to straighten hair, while curling irons can produce different kinds of curls depending on how the iron is used. Blow dryers are used to dry hair before a flat or curling iron is used. Applying heat to one's hair can cause the ends to become brittle and split; therefore, professional hair stylists almost always use a product designed to protect hair from high heat.
Brushes and combs are more simple hair styling tools. A hair brush can be round or flat and have different kinds of bristles. Combs can be straight or curved with fine or wide teeth. The wide variety of brushes and combs available allows most people to choose the best tool for their hair. Some people choose not to use brushes or combs however, especially if they have very curly hair. Brushing or even gently combing kinky curls can break the curls rather than separate them, making the style frizzy.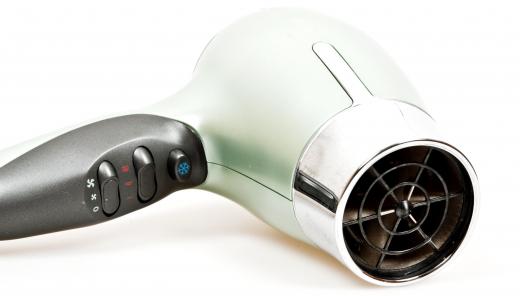 No-heat curlers and twisters are usually applied to wet or damp hair before bed. They are typically soft and designed to be slept on, but many people have difficulty comfortably sleeping with curlers in. Curlers are cylindrical cushions that hair is wrapped around, then a clip is used to keep it in place. Twisters are similar because they are also designed to be slept in, but they are meant to make hair wavy rather than curly. Some twisters are made of fabric with adjustable pipe cleaner-like innards, while others are made from bendable wire.
In addition, there are thousands of different kinds of hair bands and clips available. Some tools are specialized for a specific kind of style, such as a high pony or bun style. Other hair styling tools, like headbands, hair ties and banana clips, can be used to create many different hair styles.
AS FEATURED ON:
AS FEATURED ON:







By: Daria Filiminova

Flat irons are electric styling tools that straighten hair.

By: fuzzbones

A hair dryer is a heat styling tool used for hair.

By: gemenacom

Professional hair stylists almost always use a product designed to protect hair from high heat.

By: Laurent Hamels

Heat can cause split ends.

By: Africa Studio

A curling iron with a small barrel is ideal for creating small, tight curls.