What is a Bonnet Hood Dryer?
A bonnet hood dryer is a hair dryer that has a large plastic hood that fits over the head. It is mainly used for drying the hair, but it can also be used to enhance specific hair treatments. Rollers are usually placed in the hair and the hood distributes an air flow to dry the hair evenly. The dryer typically has two or more heat settings. A high heat setting can be used for quicker drying and a lower setting reduces heat-related damage and produces healthier-looking hair.
Using a bonnet hood dryer can be an easier way to get a more professional-looking style. The hood is designed for a person to sit under and it can be used anywhere in the home. It is sturdy and flexible, so changing positions while drying is possible, which increases comfort. This makes the dryer convenient to use.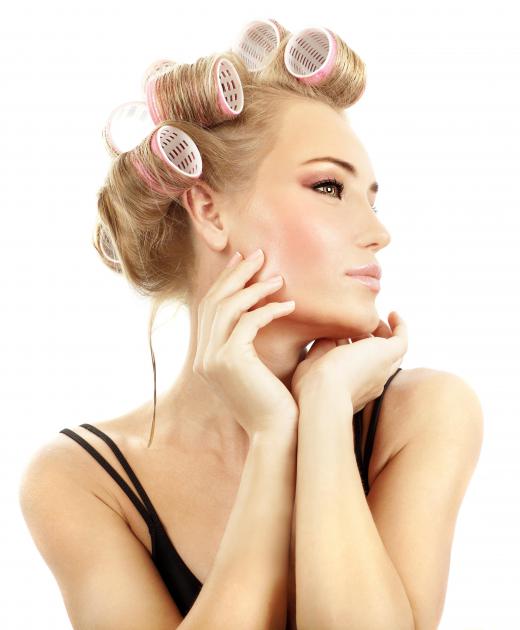 Hot oil treatments, color enhancements and deep conditioning can be improved by using a bonnet hood dryer. When the temperature is set on a medium heat setting, conditioning treatments can become more effective. After one of these treatments, the hair can be stronger and shinier. Quicker results can be seen when frosting or highlighting the hair using this type of dryer. On a high heat setting, the chemical hair lightener intensifies in strength.
Women who have problems with chemically over-processed hair or frizzy hair can benefit by using a bonnet hood dryer. Slow drying on a mild, cool setting can work to reduce frizz and produce softer-looking hair. High heat can strip the hair's shine and bounce. To restore it, the hair should be dried on the coolest setting possible. When a deep conditioner is used along with the bonnet hood dryer on a cool setting, the results can be dramatic.
A bonnet hood dryer should be big enough to fit around any roller set. This includes large rollers used for straightening the hair. They should also be flexible. The plastic hood and arm connector should be adjustable and the air flow should be felt even on the nape of the neck.
There are soft bonnet hair dryers that can be used to achieve the same results as the bonnet dryer. A thick plastic tube is connected to a soft inflatable plastic hood and this connects to a stationary dryer. These types of dryers are less expensive than the bonnet dryer but they usually do not last as long.
AS FEATURED ON:
AS FEATURED ON:







By: Anna Omelchenko

Bonnet hood dryers are often used along with rollers.

By: indiraswork

Bonnet hood dryers often work well for people who have curly or frizzy hair.