The conk hairdo is a hairstyle for African-American men which involves the use of a chemical relaxer to straighten the hair. This hairstyle was immensely popular in the 1920s through the 1960s, before fading out as a result of a rise of interest in celebrating African heritage and the look of more naturally styled black hair. Conking is still offered at some salons, and it is also possible to achieve a conk hairdo at home, although having an assistant helps.
When hair is conked, a powerful chemical relaxer is applied to the hair to straighten out the naturally kinky curls of black hair. Historically, this relaxer was heavy on the lye, and it was probably quite uncomfortable to apply. Modern relaxers are still quite caustic and sometimes very bad for the hair, because a very strong relaxer is needed to make a conk hairdo; the hair must also be repeatedly re-conked to keep it straight.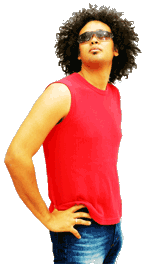 Once the hair has been straightened, there are a number of ways to wear a conk hairdo. The hair can be styled in a pompadour, slicked back across the head, or styled in other ways. Originally, the conk hairdo was developed to make black hair look more like the straight, sleek hair of some whites, so styling options historically typically emphasized the fact that the hair was straight and smooth. The style was popularized by people like Cab Colloway, a notable black jazz performer, along with other black musicians and artists.
The conk hairdo requires a great deal of maintenance. Exposure to moisture and humidity can cause the hair to curl again, so many people choose to wear do-rags or hats with a conk hairdo, especially at home, to keep the hair straight and even. As the hair grows out, the new hair must be conked so that it will be straight, requiring frequent applications of the caustic chemical relaxers.
In the 1960s, the conk hairdo began to fade out. In addition to being time-consuming to make and maintain, the hairstyle was also seen as an anachronism in an era when American blacks were celebrating their culture, heritage, and natural beauty. Styles like the Afro hairdo, which emphasizes the distinctive properties of black hair, became popular, and conked hair became increasingly more unusual.
AS FEATURED ON:
AS FEATURED ON:







Man with hands on his hips