What is the Best Hairstyle for my Face Shape?
Even though you may love the look of a certain hairstyle on a friend or celebrity, that doesn't mean the look will work well on you. Everyone's face is shaped differently, and a difference in bone structure and prominent features can mean that a different cut is needed. It is important to know your face shape so you can find the hairstyle that is best suited to you. There are five face shapes that are the most common.
In general, if your face is oval, this is the ideal shape. Most models have oval-shaped faces, and almost any hairstyle will look nice on you. Your hair will look nice at any length, and also looks especially nice when pulled back to show off your features. Some hairstylists advise against wearing heavy bangs which will hide your features.
The next face type is referred to as a long face, oblong or rectangle. With this type of face shape, you will want a hairstyle that does not add any more length to your face. Medium-length hair is best, as long hair can pull the face down and super short hair can make the face shape look more severe. A chin-length bob looks especially nice on a long face, as well as bangs, which can both make the face appear shorter.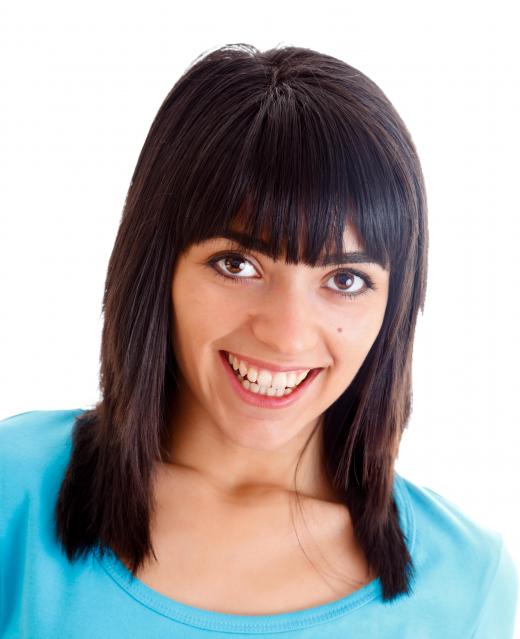 If you have a round face, a hairstyle that ends below the chin and has fullness on top will keep the focus away from the sides of your face, which is the roundest part. Layers will also reduce weight on the sides of the face, which can make the face appear thinner. Experts advise against blunt cuts that are all one length and against curly hair, which adds volume to the sides of the face.
A square-shaped face with a strong, angular jaw can be softened with curls or waves around the face. Textured long layers also soften the look of a square jaw. Bobs and bangs should be avoided, as they can emphasize the square shape of your face rather than softening it, as can long, straight hair.
Finally, if you have a heart-shaped face, de-emphasizing your pointy chin is usually a good idea, along with adding fullness under the narrow jaw line. A chin-length bob with more fullness in the back is flattering. You should avoid any haircut with fullness on the upper face, because this can further emphasize an already dominant forehead and make the jaw look even narrower.
If you have any particularly pretty features, a good haircut can emphasize these features while disguising any other less ideal features. Even if you do get a bad haircut, you can return to the stylist and ask him or her to change it. Remember, hair will always grow!
AS FEATURED ON:
AS FEATURED ON:







By: Rido

A stylist can be a wonderful source of information when choosing a hairstyle.

By: Sandor Kacso

The shape of one's face should be taken into consideration when cutting bangs.

By: Christian Schwier

Short bob hairstyles may not always work well with round faces.