What is a Hair Straightener?
A hair straightener is a tool designed to remove curl and waves from the hair, and there are several methods for accomplishing this. A number of companies make straightening irons, while others make chemical hair relaxers; both irons and chemicals are designed to change the structure of the hair. As may seem apparent, this can cause damage to the hair, and many hair professionals recommend using specialized hair products on hair that has been straightened to avoid hurting it too much.
Hair irons are quite old, dating back to at least the 1700s. When many people think of these devices, they imagine curling irons, which are designed to bring curl to the hair, but it is also possible to find flat irons or tongs. As the hair is heated, the hydrogen bonds in the hair relax, allowing people to set the hair into a desired style. By heating a straightener like tongs or an iron and passing hair through or under it, people can create very straight, smooth hair.
Chemical straighteners are also quite old, although the early versions tended to cause hair and scalp damage. These chemicals also change the structure of the hair, causing the curl to relax without an external heat source. They typically work by being applied and left in for a set period of time before being removed. Depending on the chemicals used, the hair may relax into straightened look for a few hours or a much more extended period of time.
Many salons offer professional hair straightening, which is supposed to last longer than treatments used at home. The advantage of going to a salon is that stylists are experienced with the damage that sometimes occurs to straightened hair, and they can take steps to avoid it by applying moisturizing creams and other protective serums. A salon's staff will also offer tips for maintaining and styling the new look.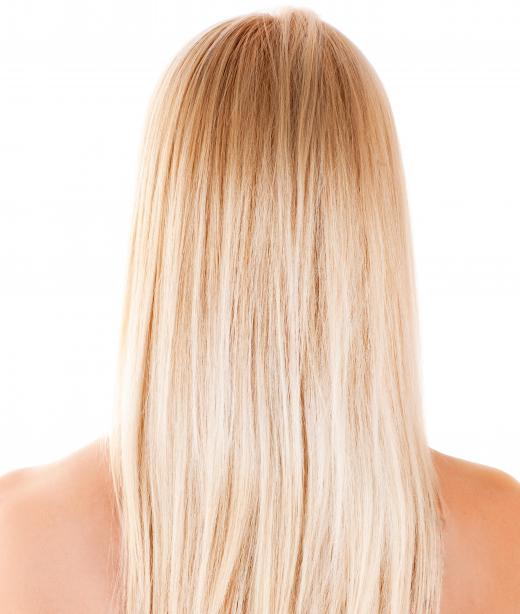 The most common problem with straightened hair is dryness, which can cause the hair to turn brittle. Applying moisturizing conditioners can help with this, as can washing in lukewarm to cold water to avoid drying out the hair with heat. Many companies also make flat irons that are designed to minimize heat damage, using ceramic elements and other materials, and chemical straighteners often come with specialized conditioners to keep the hair healthy.
Individuals who use a hair straightener frequently may find that their hair becomes brittle and thin. If this happens, it's best for the person to stop using the straightening method to allow your hair to recover. It also helps to use a rich, moisturizing conditioner. Some people find that it's best to cut the hair short, getting rid of the most damaged portions of hair.
AS FEATURED ON:
AS FEATURED ON:







By: Daria Filiminova

A flat iron can be used to straighten hair.

By: Andres Rodriguez

Some salons offer hair straightening treatments that last longer than at home treatments.

By: Ruslan Solntsev

Many women use hair straighteners on a daily basis.