A halter top is a women's garment which uses a halter style neckline, involving a single strap around the neck, rather than two straps or sleeves over the shoulders. The design exposes a large area of the upper back and shoulder blades, and is generally worn during warm weather. This type of top is also considered to be a somewhat provocative garment, because of the large amount of skin which is exposed. A variety of materials can be used to make these tops.
The halter neck style is very popular for women's tops and dresses. The strap around the neck can be attached in a number of ways. Frequently, a halter neck is tied, but the strap can also be snapped or simply slipped over the head. The straps support the weight of the breasts. This is important for women who do not wear a bra with a halter top, since the straps of the bra would show. On tops designed for women with larger busts, the top may have additional reinforcement.
If choosing to wear a bra with a halter top, the bra is usually strapless. Women may find it helpful to bring a halter top along to a lingerie store while they try on bras, to determine whether or not they will work with tops of this design.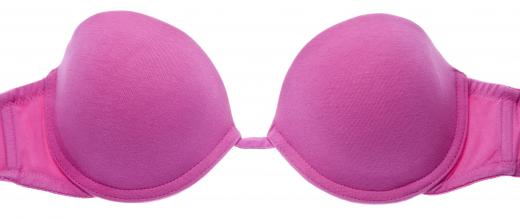 Materials used for this type of top are often stretchy, to allow for freedom of movement. Knits are the most common choice, usually from a natural fiber like cotton. Woven cotton halter tops are designed for more formal occasions, and synthetic fibers can also be used to create a desired look. Crochet and lace tops are worn by more daring women, and some knitters make their own for a custom fit.
The halter dress is a favorite variation on the halter top. Halter dresses can be full length formal gowns, or more casual knee length summer frocks designed for casual wear. A variety of cuts and waistlines are available to flatter various figures. Sashes and other accessories are sometimes sold with a halter dress as well.
AS FEATURED ON:
AS FEATURED ON:







By: Brooke Becker

A strapless bra, which can be worn with a halter top.