What Is Mineral Lipstick?
Mineral lipstick blends different minerals and natural wax to create different shades of lipstick, unlike traditional lipstick which uses chemical color pigments, wax, and other man-made materials. Some manufacturers make mineral lipstick entirely from natural ingredients while others blend minerals with some chemical ingredients. The lipstick comes in various shades and matte, shine, sheer, and glossy variations, which provide different color intensities and different levels of shimmer when worn.
Natural mineral lipstick includes a variety of different minerals, such as mica, soy, titanium dioxide, tin oxide, and silca. These minerals are blended with different color pigments to create unique lipstick colors. Most mineral lipstick varieties are treated with heat. Color pigments are added slowly to produce the different shades. After heating, wax is often added to harden the mixture and make application easier.
Lipsticks, including the mineral varieties, come in different variations such as matte, shine, sheer, and glossy. Matte lipstick has the highest amount of color pigment and a thick texture. When applied, the matte lipstick gives off almost no shine. This type of lipstick will produce the deepest color when worn and may last longer than other variations.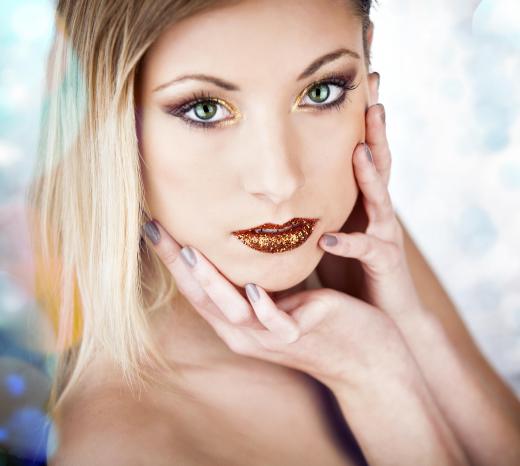 To create a shine lipstick, manufacturers blend small amounts of gel into matte lipsticks. As a result, a shine lipstick has a lighter texture than matte lipstick and produces a lighter color. Some shine lipsticks also have a bit of shimmer when applied.
Sheer lipsticks have a lighter color then both matte and shimmer lipsticks. A mineral lipstick labeled as sheer will produce a lighter color when worn then the color shown in the tube. Some sheer lipsticks have a bit of shine, but most simply provide a thin veil of color.
Glossy mineral lipstick is almost a gel and has a watery consistency. Most glossy lipsticks are sold in small tubes with applicator wands or built-in roll on applicators. This mineral lipstick produces more shine when worn than other variations and gives off only a hint of color. Mineral lipstick in glossy varieties may wear off more quickly than other variations.
The colors of mineral lipstick can be anything from red, to pink, to silver over tones. Some glossy versions of the lipstick have a golden shimmer and little color. Manufacturers offer the most color variety in the matte and sheer lines, as these variations have a higher levels of pigment, making it easier to notice subtle differences in color options.
AS FEATURED ON:
AS FEATURED ON:







By: bst2012

A woman applies mineral lipstick.

By: Nicola_Del_Mutolo

Mineral lipstick can come in a glossy version that makes the lips shine.

By: vvoe

Mica has long been used in cosmetics.