What is a Vent Hairbrush?
A vent hairbrush is useful for hairstyling, especially when you are using your blow dryer at the same time. Both flat and circular brushes may have vents or openings between bristles, which allow more heat from the blow dryer to get directly to the hair. This can help improve drying time, and allow you to hold the hair in certain positions to achieve quick setting of the hair. If you long for the Farrah Fawcett hairdo or want that bob to stay perfectly curled under, vents can help achieve that pretty feathered back look or under curl with greater ease.
You'll find many different incarnations of the vent hairbrush. A simple style is either slightly rounded or flat, with bristles on in between each vent or opening in the brush. Number and configuration of vents and bristles varies significantly. Bristles of the vent hairbrush are typically either metal, plastic, or metal coated with plastic. Some brushes have slightly rounded tips that are considered gentler on the scalp.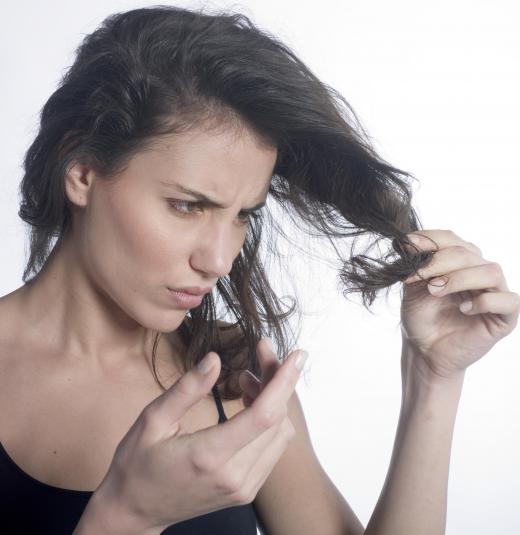 Many favor a round vent hairbrush for achieving soft curls during the blow drying process, and some of these are made with metal or ceramic and combine the benefits of vents while also getting slightly heated. These are called thermal vent hairbrushes or simply thermal brushes. As you blow dry, the brush heats slightly, which creates better curl and shape in hair styling.
Price on the vent hairbrush varies. You can find even the thermal ones for less than $10 US Dollars (USD). The least expensive brushes may cost under $5 USD. However you can pay significantly more for these brushes when well-known hairdressers or style salons market them. Some will cost well over $20 USD, and those considered for professional use by hair stylists may be even more expensive.
There are some tips for using a vent hairbrush successfully. First, you'll want to use a comb to comb through any tangles on wet hair. You should not brush wet hair since this can create split ends and it won't sufficiently attack tangles, especially in long hair. Once the hair is partially dry, you can begin using the vent brush to lift sections of the hair and style it as you like. You'll get even better results if you use gel, mousse or styling spray, which produces better hold.
You can also use this type of brush to give your hair a bit of a touchup when it's already dry. With a little mousse or styling spray you can refresh curl under, curl ups or feathering. This is made easier when the brush is also a thermal brush, and round, because it will act like a mildly heated curling iron as it gets heat from the blow dryer.
AS FEATURED ON:
AS FEATURED ON:







By: Laurent Hamels

Brushing wet hair can cause split ends.