What Should I Consider When Buying a Hairbrush?
Buying a hairbrush that best meets your needs should not be a major time-consuming decision, but some thought should go into it. After all, a hairbrush is not meant to merely detangle and smooth the hair, but distribute the oils in the hair to keep hair healthy and shiny. Your hair type and hair length are the two most important considerations when buying one.
Those with short hairstyles should consider buying a hairbrush that is round and small or medium-sized. This type of hairbrush can add a bit of curl or shape to short hair, especially when used with a blow-dryer. When buying one to use on short hair, consider that short bristles tend to work best on shorter hair lengths. Buying a second hairbrush in a half round style can maximize the styling options for short hair.
When buying a hairbrush for long hair, consider a cushioned hair brush. Long hair is especially prone to damage and breaking when brushing. Using a cushioned hairbrush daily is likely to prevent many broken hair strands.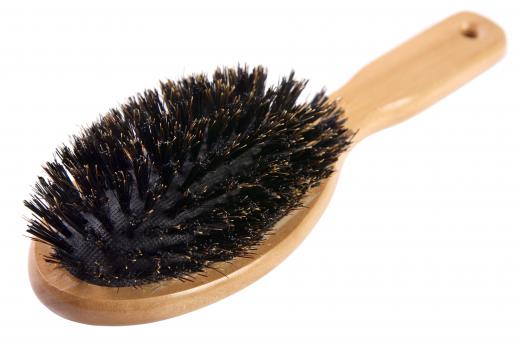 Those with thick and curly hair can have an especially challenging time when buying a hairbrush that will work well on their hair. Some people with thick and curly hair prefer one that is more of a pick than a brush. A hairbrush that is flat and paddle-shaped may provide a solution for styling curly or wavy hair more easily.
A round brush for blow-drying usually works well on curly hair and those with thick hair can often use a metal-spoked hairbrush as well. Buying a hairbrush that is oval-shaped is a good idea for those who want a long, straight hairstyle. An oval hairbrush will often help create less volume than a round hairbrush.
Consider investing in a good quality natural bristle brush when buying a hairbrush. Plastic bristles may add static to hair and natural bristles such as boar bristle hairbrushes often eliminate this problem. Natural bristles also tend to be less stressful on the hair shaft.
Avoid using any kind of hairbrush on any length or type of hair when the hair is wet. Wet hair is especially prone to stretching, weakening and breaking. Breaking and splitting hair creates frizziness — an unattractive look for all hair types. Wide-toothed combs are best for wet hair that has been towel or air-dried as much as possible first.
AS FEATURED ON:
AS FEATURED ON:







By: Leonid Nyshko

Boar bristle brushes effectively smooth, lift, and help redistribute oil throughout the hair.

By: George Dolgikh

Hair length and type are important considerations when buying a hairbrush.

By: Syda Productions

It is wise to use a wide toothed comb on hair that is damp to work out tangles before using a brush.