What is an Aerosol Deodorant?
Body odor is offensive to many people, so aerosol deodorant was invented to prevent and treat it. These deodorants are not as commonly used as the stick or roll-on variety, but many people around the world still apply them to their bodies every day. Unlike roll-on deodorant that simply needs to be smoothed over the skin, an aerosol is a spray. The user typically needs to shake the can several times, removes the lid, and then hold the deodorant a short distance away from the underarm before spraying.
Some aerosol deodorants also contain antiperspirants as well. An antiperspirant deodorant accomplishes two things: it eliminates odors and prevents a person from perspiring in the first place. It behaves as a liquid sealant on the skin, providing a thin film that will mask body odor and wetness. The deodorant works by blocking a person's sweat glands and trapping liquids, which eliminates odors. In addition, it often has a pleasant smell.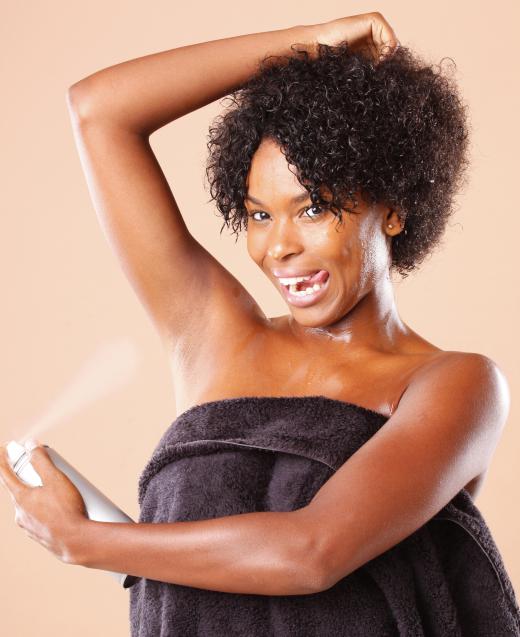 There are some disadvantages to using an aerosol. One of the most prominent disadvantages is that it can have a negative effect on the environment. Aerosols are made of tiny particles that remain suspended in the air after they have been released, which can affect weather and contribute to climate change. The propellant ingredients used in the past have been blamed for changes in the atmosphere's energy balance as well as for affecting the global water cycle.
Another disadvantage is how the product is applied: it is not applied directly to the skin because it is sprayed on. This means that if the person does not properly aim the deodorant, it can end up on clothes or other parts of the body.
Another disadvantage is that there are no current aerosol deodorants in the marketplace that are made of 100% natural ingredients. Most contain potentially harmful ingredients, including forms of aluminum. Aluminum may cause allergic reactions, and many people have expressed concerns about the possibility of it building up in the body.
Of course, there are some advantages to using this form of deodorant. The deodorant is easy to apply and dries quickly. It is also extremely easy to rinse off. Another advantage is the deodorant does not cause any buildup that could easily transfer to a person's clothing.
AS FEATURED ON:
AS FEATURED ON:







By: redav

A woman applying aerosol deodorant.

By: Jason Stitt

Aerosol deodorant attempts to block a person's sweat glands, trapping liquids and eliminating odors.

By: vladimirfloyd

Deodorants are designed to mask the smell of body odor emanating from the armpits.

By: HamsterMan

Sweat mixing with bacteria on the skin often leads to body odor.