What is Artificial Tanning?
Artificial tanning, also called sunless tanning, is the act of darkening the skin without the use of the sun. There are several methods to achieving a sunless tan. Artificial tanning can be done at a professional salon or at home, and it might include using a tanning bed, spray tanning or bronzing lotions and sprays.
It is common for people who enjoy indoor tanning methods to use a tanning bed. There are two kinds of tanning beds found in a professional salon. The first is a horizontal bed that has a top that closes the person inside. The bad and the top have acrylic glass that allows the passage of ultraviolet rays from special ultraviolet A (UVA) and ultraviolet B (UVB) light bulbs.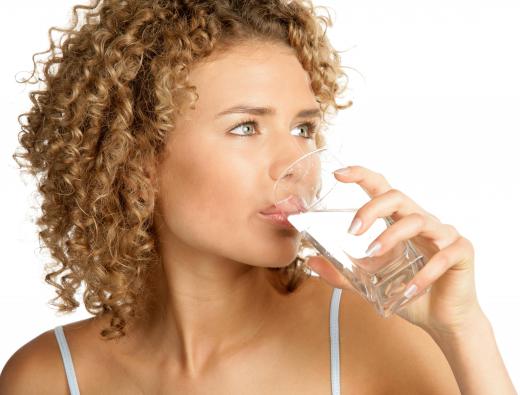 The second type of tanning bed is a vertical booth. The person steps into the booth while UVA and UVB lights shine around them to tan all sides of the body. Both kinds of tanning beds serve the same purpose: to darken the skin using artificial light instead of the sun.
People who enjoy artificial tanning might buy a home tanning bed. These beds can be similar to the beds used in professional tanning salons. Home tanning beds take up a lot of space and can pose a large initial cost. These beds can be purchased new or used.
Another method of achieving a sunless tan is the use of a spray tan. Spray tanning usually is done at a professional salon. There are two types of spray tans, using a booth or airbrush tanning.
A spray tan booth is one where the person gets into the booth and the tanning bronzer sprays out of a nozzle or nozzles on the sides of the booth. A technician at the salon controls when the bronzer begins to spray and directs the person who is tanning on what to do. After being sprayed, the person's skin will slowly darken over several hours.
The second type of spray tanning is an airbrush tan at a salon. The salon technician will spray the tanning bronzer on the body by hand. Some people like airbrush tanning because there is less chance of the technician missing spots on the body. This technique also takes a few hours for the skin to show results.
The least expensive artificial tanning method is to use tanning lotions and bronzers bought that can be used at home. There are many tanning bronzer lotions available at tanning salons and other retail stores. A tanning bronzer lotion can make it difficult to get an even tan, and it can be messy.
Each of the artificial tanning methods will result in darker skin and a tan that can be shown all year long. Using a tanning bed that contains UVA and UVB light can be a health risk. Spray tans at a salon or the use of tanning lotions and bronzers at home in considered to be a safer method of artificial tanning.
AS FEATURED ON:
AS FEATURED ON:







By: studiovespa

A woman with a light artificial tan.

By: markcarper

A tanning bed.

By: Rido

Tanning beds darken the skin by exposing it to artificially created UV rays.