What is Bronzer Tanning Lotion?
A bronzing tanning lotion is a tanning lotion that gives users dark skin without the use of sunlight or tanning beds. These tanning lotions can contain chemicals such as dihydroxyacetone (DHA), natural pigments, moisturizers, vitamins and botanical extracts. A benefit of using these lotions is that they can reduce a user's exposure to harmful ultraviolet (UV) rays.
DHA is a common ingredient found in bronzer tanning lotion. It can be described as a colorless chemical derived from glycerin. The chemical works by interacting with the amino acids found in dead skin cells to darken the skin tone. The body constantly is shedding old skin, so when lotions containing this chemical are applied to the body, the effect of browning can last as long as seven days after application.
At the same time, a bronzer tanning lotion also can contain natural pigments. Whereas DHA works as part of a chemical reaction, natural pigments dye the skin to the desired darker color. The pigments are natural, so they aren't harmful to the skin.
The benefits of using a bronzer tanning lotion are numerous. First, it can help darken the skin without having to expose it to potentially dangerous UV rays. Second, it can help speed a user's tanning process so that he or she isn't required to spend as much time in the sun or in a tanning bed. This type of lotion also can serve to complement or touch up a preexisting tan. Some bronzers contain sun protection factor (SPF) in their formulations to help protect the skin from sun damage, though users will have to look for bronzers with an SPF higher than 15 to block out UV rays.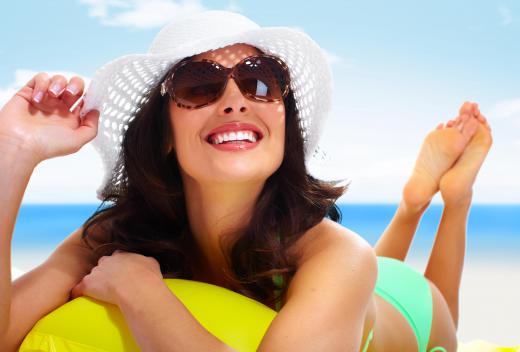 Those interested in using a bronzer tanning lotion should be prepared to dedicate time and patience to the process of application. A bronzing lotion has to be applied carefully and evenly on a single area of the skin at a time to avoid streaks or uneven coloring. During the actual application process, users should choose to wear dark-colored clothing and avoid contact with hard-to-clean fabrics, such as those on furniture. Hours might need to pass before the bronzer can penetrate the skin completely. Users should wash their hands after application so that their palms don't also turn a brown or orange color.
When choosing a bronzer tanning lotion, consumers should look for lotions that have a medium consistency. Lotions that are too thick will be difficult to spread along the skin, and those that are too thin might provide lackluster results. Bronzers with moisturizers increase the success of the tanning rate, because dry skin is difficult to tan. Whether a bronzer contains tingling attributes or fragrances is up to the preference of the user, though bronzers with vitamin A, vitamin C, vitamin E and botanical extracts should be chosen over those that don't.
AS FEATURED ON:
AS FEATURED ON:







By: Rido

Using a bronzer tanning lotion may speed up the tanning process so a user doesn't have to spend as much time in a tanning bed.

By: Kurhan

Using a bronzer tanning lotion can help speed a user's tanning process.

By: Liv Friis-larsen

Bronze tanning lotions can be a safe alternative to sun bathing.