What Is Crackle Nail Polish?
Crackle nail polish is a type of fingernail lacquer that shatters as it dries for an artistic chipped effect. Unlike regular varnishes that dry in a solid, uniform coat, the crackle formula forces the layer to separate into randomly placed cracks. Many cosmetics brands carry different versions of this polish in a wide variety of colors. It is intended to be worn over the top of a solid shade of regular nail polish to emphasize the crackled effect.
Most crackle polishes look very similar to regular nail polish in their liquid form, but create a much different effect as they dry. The special formula for uses ingredients that are not completely compatible, so the polish separates as it dries. This leaves a shattered appearance and reveals the other varnish color underneath.
Using a crackle nail polish is fairly simple, especially considering how dramatic the resulting manicure can be. First, a regular, non-crackling polish should be applied to clean, neat nails. Any nail length is acceptable for this process, but longer nails will probably display the crackling to the fullest effect. It is recommended that the base color shade contrasts significantly with the color of the crackle polish, because this will make the cracks highly visible. More subtle effects, however, can be achieved by selecting a base color that is similar or complementary to the crackle color.
After one to two coats of the base color have been applied, they must be allowed to thoroughly dry before the top layer is added. The best way to apply the crackle polish is in one single, thin layer. Too thick of a coat will prevent the finish from reaching its full potential and possibly diminish the shattered effect. Even though this style is basically intentionally chipped, it is important to apply a clear, protective top coat over the crackle nail polish once it dries. The cracked polish is delicate and likely to flake away if is not sealed properly with top coat, and this will make the end result look messy rather than intentional.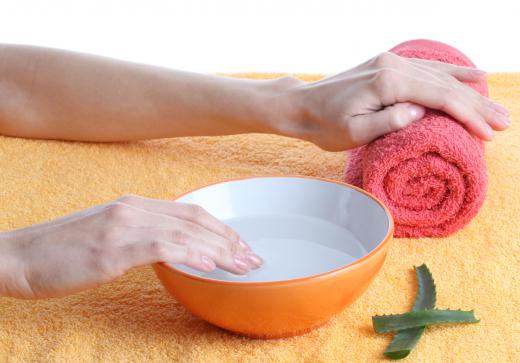 Several different cosmetics brands produce their own versions of crackle nail polish. All of these products aim to serve the same purpose, but it may take some experimentation for nail polish enthusiasts to pick a favorite. It is not necessary to match the brand of the base color coat to the brand of crackle polish because the top coat should shatter regardless of what polish lies beneath it. In fact, the texture of the base coat will usually not affect the crackling. This means that cream, metallic, glitter, or matte polishes are all acceptable choices for use underneath.
AS FEATURED ON:
AS FEATURED ON:







By: bepinet

Crackle nail polish shatters as it dries.

By: Alliance

Several different cosmetic brands produce their own versions of crackle nail polish.

By: Photographee.eu

Crackle nail polish should be applied to clean, neat nails.