The term "eyebrow definer" may be used to describe any type of cosmetic that enhances the appearance of a person's eyebrows. There are several different types of eyebrow cosmetics on the market, allowing those who need to darken, enhance, or fill in their eyebrows to choose the eyebrow definer that works best for them. Common types of eyebrow makeup include eyebrow pencils, powders, and tints. Some individuals also prefer to use more permanent eyebrow treatments, such as dyes or tattoos.
Many people recognize that by changing the shape and color of their eyebrows, they can significantly enhance their facial attractiveness. In many cases, people have eyebrows that are sparse or that are so fair as to not be particularly obvious on their face. In addition, many people find that their eyebrows become gray as they age, and this can cause them to look much older than they actually are. By using an eyebrow definer, they can darken their eyebrows and make them appear fuller.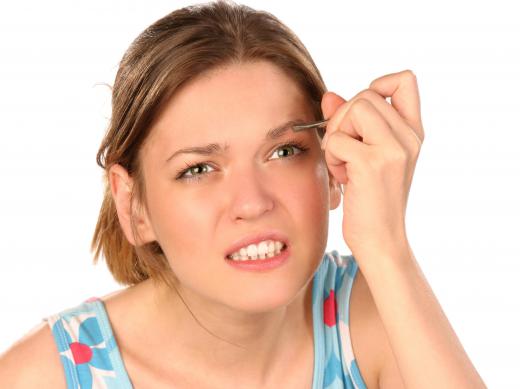 A typical type of eyebrow definer is the eyebrow pencil or its more modern cousin, the eyebrow pen. Eyebrow pens and pencils come in a variety of shades and consistencies. These eyebrow cosmetics often provide users with significant control over their application and can be used to fill in sparse areas of the brow as well.
Eyebrow powders and waxes are typically applied to the brow area with a brush, and some people feel that they are better suited to defining a larger section of brow hair. Others also believe that a powder or wax may give its wearer a more natural appearance. Individuals who do not suffer from sparse eyebrows or who do not have any gaps in their brows may prefer to use a liquid or gel brow tint that can be applied with a mascara wand. While neither the tint nor its application method generally works well on bare skin, the use of an eyebrow tint can often create a very natural look by tinting individual brow hairs.
In some cases, a person may not wish to use an eyebrow definer on a daily basis. These individuals may use a hair dye on their eyebrows, though it should be noted that some cosmetic experts are opposed to this practice on the grounds that it may be dangerous. Another option is to undergo a tattooing procedure, which can give long-lasting results and reduce the need for ongoing eyebrow maintenance.
AS FEATURED ON:
AS FEATURED ON:







By: Ana Blazic Pavlovic

An eyebrow definer could be an eyebrow pencil, powder, shadow or tint.

By: Xuejun li

Eyebrow pencils are common types of eyebrow definers.

By: Andriy Petrenko

Soft filler brushes can be used to blend out color added by an eyebrow pencil for a more natural look.

By: MarkFGD

Plucking can be used in conjunction with an eyebrow pen.