Eyebrow shadow is a kind of eyebrow cosmetic designed to fill in sparse, light, or overly tweezed or plucked eyebrows. Similar to regular eyeshadow, eyebrow shadow is powdered. Yet, this powder typically is designed to better adhere to eyebrows than could a regular eyeshadow. Consumers can find eyebrow shadow at most locations where makeup is sold, including online and in-person retailers. Those users who are new to this type of makeup, however, might practice with inexpensive versions, or even traditional eye shadow, before purchasing specific eyebrow cosmetics.
Regarding appearance and application methods, eyebrow shadow is similar to regular eye shadow. It is a powdered cosmetic designed for application with a small sponge or brush. Often, people with especially thin eyebrows use eyebrow shadow to make their brows appear fuller and healthier. Some people, such as those with especially light-colored eyebrows, use the shadow to create more defined-looking brows or brows that better match their hair color. Sometimes, the shadow works to mask evidence of over-plucking or over-tweezing in a certain area of the eyebrow.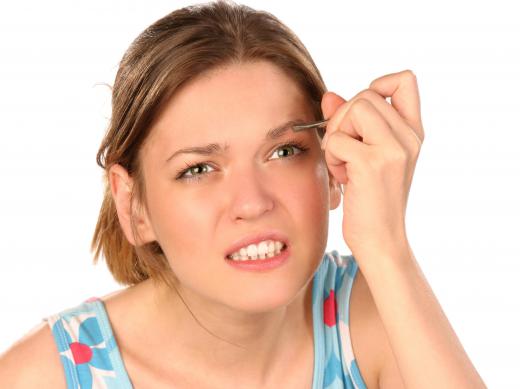 Using eyebrow shadow usually is not difficult. The user gathers a small amount of the shadow on a small flat-angled brush or sponge and gradually applies the shadow to clean, dry eyebrows until she achieves the desired look. Still, some people prefer to use other types of eyebrow cosmetics, such as eyebrow pencils. These pencils are similar to eyeliner pencils in appearance, function, and application. For some, especially those who cannot quite master shadow application, eyebrow pencils are less messy than powered shadow and the effects can last longer.
Most online and brick-and-mortar stores that sell cosmetics sell eyebrow shadow. Similarly, it is possible to find the shadow from both inexpensive and expensive cosmetics manufacturers and brands. Depending on the store, the brand and manufacturer, and the quality of the shadow, shoppers can expect to pay as little as $2 or $3 US Dollars (USD) or as high as $70 USD or more.
People who have never tried eyebrow cosmetics might feel safe buying one or two inexpensive shadows and pencils and experimenting with those before deciding on a color and makeup type. Some people skip eyebrow makeup altogether and opt to use traditional eyeshadow or eyeliner pencils. Although traditional eyeshadow and eyeliner are not designed to adhere to eyebrows, depending on the level of coverage the user seeks, they can work just as well as eyebrow shadow and pencils.
AS FEATURED ON:
AS FEATURED ON:







By: Ana Blazic Pavlovic

Eyebrow shadow can be used to fill in over-plucked eyebrows.

By: Andriy Petrenko

An eyebrow brush may be used to apply a darkening powder to the eyebrow.

By: photostefan

Cosmetic tattooing may be used to permanently simulate eyebrow shadow.

By: phasinphoto

Eyebrow shadow is usually powdered.

By: Lsantilli

Eyebrow shadow can be used to make brows look fuller and healthier.

By: Mikhail Malyugin

Eyebrow shadow kits that contain both a gel and a setting powder can provide a long-lasting look.