Eyebrow tint is a way to temporarily change the color of the eyebrows, either to give them a more defined appearance, such as for very light brows, or to make them better match the hair color once it has been dyed. Eyebrow tint can either be applied daily, just like any other cosmetic, or it can be applied semi-permanently at a salon, similar to any other hair dye. There are reasons for and against both types of tint. Either way, changing the color of the eyebrows slightly can do a lot to enhance appearance, and make the face look more balanced and put-together.
Cosmetic eyebrow tint, applied in the morning and washed off at the end of the day, is an inexpensive and easy way to make the eyebrows more defined. It is typically available in a liquid or gel form in a pen-type applicator, and is simply brushed over the eyebrows to make them appear darker. It also helps to create the look of more defined lines, and prevents stray hairs from appearing throughout the day and making the eyebrows look messy. It is available online and in most beauty supply stores.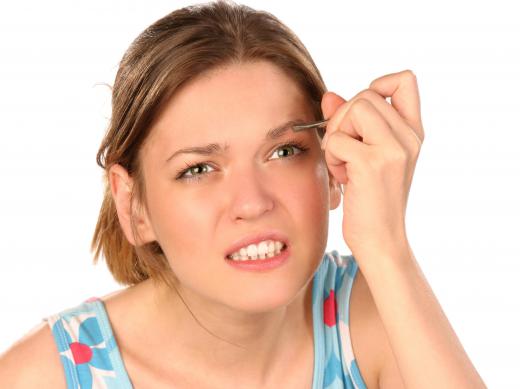 The second type of eyebrow tint is semi-permanent dye applied at a salon. In general, it is not recommended to do this at home, because it is hard to get a natural-looking color; remember, the eyebrows should not be the same exact color of the hair. With this type of eyebrow tint, the stylist can make the eyebrows appear slightly darker or slightly lighter depending on the hair color. For instance, if an individual has dyed blonde hair, dark brown eyebrows would be a dead giveaway. This is generally a fairly inexpensive treatment and does not take long to complete; many people simply do it at the same time they go in to get their hair colored.
Some will also get the eyelashes tinted at the same time, allowing them to look as if they are always wearing mascara, making the eyes look bigger and more defined. The only time an eyebrow or eyelash tint at a salon would not be a good idea is if the individual is particularly sensitive or allergic to hair dye, because it can be fairly irritating to the skin of the face, or if an eye infection or irritation is present. In this case, applying the tint with a cosmetic pen every day is a better bet, and with practice, it will only take a few moments.
AS FEATURED ON:
AS FEATURED ON:







By: Ana Blazic Pavlovic

Eyebrow tint can be either temporary or semi-permanent.

By: Andriy Petrenko

Eyebrow tint can help brows appear slightly darker.