Face powder is a type of cosmetic product used to smooth the appearance of the facial skin, and to even out skin tone. It may be used alone, or in conjunction with liquid foundation. Powder generally comes in two forms: loose or pressed. Loose powder is generally sold in a small tub, and applied with a powder puff or makeup brush. Pressed powder is sold in a compact, usually with a mirror on one side, and is applied with a smaller powder puff or makeup sponge.
There are advantages and disadvantages to choosing loose or pressed face powder. Loose powder tends to go on more lightly, and give a more natural look. It is not as portable as pressed powder, however, and is more difficult to apply on the go. Pressed powder gives a more "finished" appearance, and may be a good idea for those who require frequent touch-ups throughout the day. People with oily skin may need to experiment to find which type of powder works best for them.
Face powder comes in different shades to match varying skin tones, and it is a good idea to choose the skin tone that most closely matches the natural skin. This will help the makeup appear more natural; it should be virtually unnoticeable. It may be necessary to use different powders for summer and winter, as the skin may become more tan in the summer, or drier and in need of extra moisture in the winter. In addition, some face powders are sold in varying specialty shades to suit different skin needs; for example, one with a greenish tinge will minimize the appearance of redness, while a purple-tinted powder may help the appearance of sallow or yellow skin.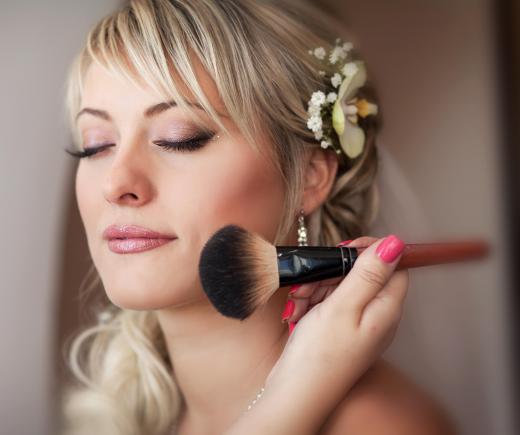 Some types of face powder contain extra ingredients for added benefits, such as SPF ingredients for protection from the sun, or acne-fighting ingredients for those who struggle with breakouts. In general, even if a face powder offers some sun protection, it is a good idea to wear a sunscreen underneath the powder. Another options is to use a moisturizer with an SPF rating.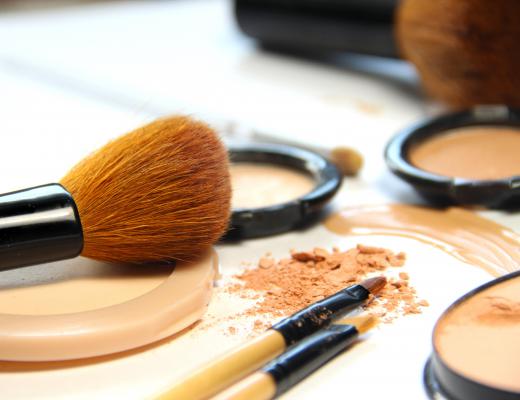 To apply face powder, either with a makeup brush, powder puff, or makeup sponge, it is necessary to start with a clean face. Apply any moisturizer, liquid foundation, or spot concealer first. Then, get a small amount of powder on the makeup tool and brush it onto the face in quick downward strokes. Apply lightly at first, then add more if needed, being certain to blend the makeup around the edges of the face, such as at the hairline, ears, and neck.
AS FEATURED ON:
AS FEATURED ON:







By: Warren Goldswain

Face powder is used to smooth facial skin.

By: armina

Some face powders contain ingredients that purport to reduce oiliness or redness.

By: Tanouchka

Face powder may be used in conjunction with liquid foundation.

By: Leonid & Anna Dedukh

Before applying face powder with a makeup brush, it is necessary to start with a clean face.

By: Doruk Sikman

Failure to properly remove face powder may result in clogged pores and acne.