Jojoba butter is a skin moisturizer that is known for its human sebum similarity, which allows it to protect the skin. It has the ability to reduce the appearance of stretch marks, wrinkles, and fine lines, and can also help unclog pores. Despite its typical use as a skin care product, it can also be used to soften and moisturize hair. It may be used in sunscreen, soap, and pomade, as well. Jojoba butter is typically non-greasy, easy to apply, and naturally odorless, though it is often combined with artificial fragrances in various beauty products.
Sebum is secreted from the sebaceous glands on the skin, forming a thin protective layer on the epidermis. Jojoba butter is uncannily similar to sebum, making it quite popular among those who do not relish the thought of putting artificial products on their skin. Unlike many creams and lotions, it does not typically feel greasy or oily, which is particularly beneficial for those who already have oily skin and do not want to make it worse with lotions. Instead, it is said to be somewhat waxy, and is absorbed into the skin quickly. Additionally, it is quite easy to spread, as it tends to become especially pliable when it comes into contact with the warmth of the skin.
While jojoba butter is most often used as a skin moisturizer, it shows up in other beauty products, as well. For example, many sunscreens, sunburn care products, and soaps contain this substance since it is considered so good for the skin. Additionally, some hair products contain this ingredient, as it can protect the hair just as well as it can the skin. It can enter the hair follicle and create a seal of protection around it, reducing the loss of moisture without making the hair feel greasy. Aside from moisturizing the hair, it also often keeps it soft, flowing, and looking healthy.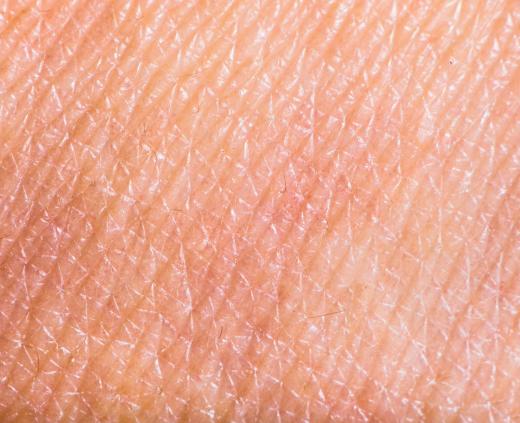 Jojoba butter is derived from the seeds of Simmondsia Chinesis, which is a shrub that is often found in the southwestern United States. The oil that comes from the seeds is combined with hydrogenated vegetable oil to create jojoba butter, as this form tends to be the easiest to apply to the skin. This is considered a benefit because while other hair and skin care products can moisturize the skin and hair, many are known for feeling greasy and being difficult to effectively spread. Thus, they often sit on the surface rather than being absorbed right away like jojoba butter usually is.
AS FEATURED ON:
AS FEATURED ON:







By: godfer

Jojoba butter is used in spa skincare treatments.

By: Deyan Georgiev

Jojoba butter can be used to reduce the appearance of wrinkles and fine lines on the skin and can help unclog pores.

By: Leo Lintang

Jojoba butter may be used to reduce the appearance of stretch marks.

By: Roman Gorielov

Jojoba butter hair products can be applied to clean hair to add moisture.

By: Antonioguillem

Some sunscreens contain moisturizing jojoba butter.

By: Africa Studio

Products that contain jojoba butter can help protect and soften skin.

By: Amy Walters

Products meant to treat sunburns often contain jojoba butter.