Lip tint is a cosmetic product applied to the lips to give them color, often without much gloss or shine included. Generally, the tint is applied to bare lips, and the color will slightly stain the skin; it is also occasionally referred to as lip stain. Someone might then choose to apply lip gloss over the top of the tint, to get a shiny appearance. Products such as gloss or lipstick are sometimes labeled "lip tint" as well, however, so it can be a bit of a catch-all term.
At its most basic, lip tint is a product for the lips that tends to fall somewhere between gloss and lipstick. It goes on more lightly than lipstick, but provides more color than gloss. This product frequently contains additional ingredients, like sunscreen, conditioning ingredients, or even a minty scent to make the breath smell fresher. Sunscreen and conditioning ingredients are particularly helpful, because they help protect the lips from sun damage or skin cancer as well as to make them appear softer and smoother. The tint typically comes in a squeeze tube or a twist-up tube.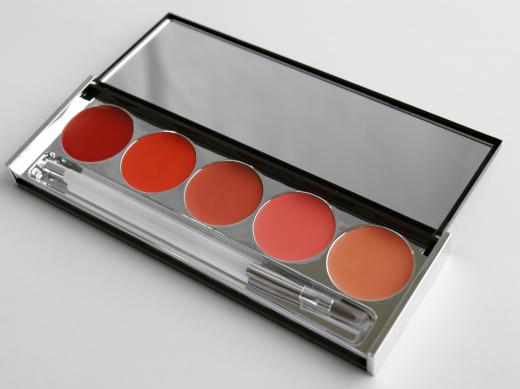 One of the benefits of lip tint is that it is generally very long lasting. If it contains gloss, the gloss will eventually be wiped off, but the color will stay. This is because it has temporarily stained the lips and is not just resting on top of them.
This type of lip product is an excellent choice for hot summer days, or for days when it will not be possible to regularly reapply lipstick. An individual might also choose to wear lip liner with this type of product, to prevent it from feathering. In addition, one of the main problems with lip liner is that the lipstick tends to fade far before the lip liner does, but with a long-lasting tint, this will not be a concern. This type of tint for the lips can be removed at the end of the day with ordinary makeup remover.
Another benefit is that the tint occasionally doubles as a cheek stain, which functions in a similar way but instead temporarily stains the cheeks, giving a blushed appearance. For someone who is traveling or who does not want to use a number of different cosmetic products, a combination product like this can be an excellent choice. People whould keep in mind that both stains for the cheeks and the lips tend to appear much darker in the bottle than they do on the skin.
AS FEATURED ON:
AS FEATURED ON:







By: Ganna Shapovalova

A palate of lip tint.

By: Johanna Goodyear

Lip tint colors the lips with little gloss or shine.

By: armina

Some lip tints can be applied as a first layer under lipstick.

By: Ferrante Pietro

Some lip tints contain sunscreen that can help ward off sun damage.

By: amaxim

Someone may choose to apply lip gloss over lip tint.