Pore minimizers are used to diminish the appearance of large pores on facial skin. When pores become full of dirt and bacteria, the pores can get clogged and appear larger. Many people use a pore minimizer product on the face when this happens to clean out the pores and make them look smaller. There are a wide variety of pore minimizer products available on the market, including moisturizing creams, exfoliating masks, facial scrubs, and gels, and many of them come with an applicator, such as one that rotates the cream onto the skin with an electric brush. Though some products claim to reduce the appearance of large pores in a matter of hours, some products take weeks to show results.
When makeup is used on a daily basis, pores can become clogged with dirt, makeup, and bacterial debris. Daily cleansing of the skin can typically keep this from happening, but not in every case. When someone finds that he or she is having trouble keeping skin clean, he or she might want to use a pore minimizer that will aid in the cleansing process and help the pores to appear smaller in size.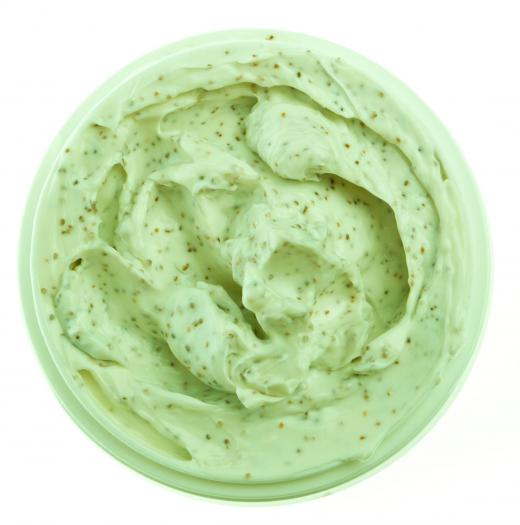 Cleaner skin can also help to prevent acne. Using a pore minimizer to clean and moisturize the skin can be highly important for people with recurring acne problems. A good pore minimizer, along with a regular facial cleansing regimen, has been shown to decrease acne and promote healthier skin.
In addition to helping to prevent acne, some pore minimizers also claim to be able to prevent rosacea, reduce blackheads, decrease sun damage, and cure skin rashes. Depending on the ingredients of the particular pore minimizer, these effects could occur. When using a product that decreases oil in the skin, acne, blackheads, and skin rashes usually can be healed with relative ease.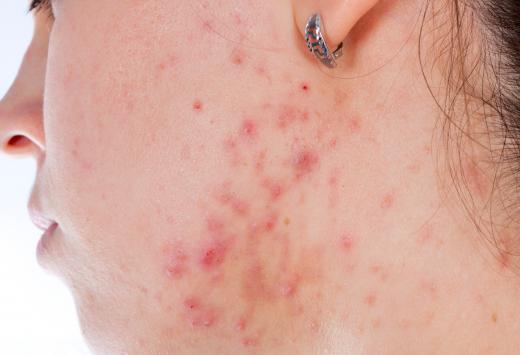 Pore minimizers typically contain vitamin C, silicone-based additives, and skin conditioning products. Some pore minimizing products also offer protection from ultraviolet (UV) rays. Other additives, such as silica, help to reduce the oil that the pores contain. Vitamin E is also generally used in pore minimizers to contribute to the softness of the skin.
Emu oil also is a typical ingredient in pore minimizers. This oil has been reported to help get rid of scars and stretch marks and help soothe dry skin. It is also an anti-microbial product that can help to clean up bacteria in the skin.
How To Minimize Pores Naturally
There are many products and treatment options that can help you reduce the appearance of pores on your skin. However, building good habits and taking a natural preventative approach can be very effective in helping to shrink pores, avoid clogging, and maintain a healthier complexion. These simple steps are a good place to start.
Develop a Good Skincare Routine
No matter what your skin type, you should be taking steps to cleanse and moisturize every single day. Developing a good skincare routine can not only minimize pores but can also help significantly reduce signs of aging down the road.
Cleansing is the first step and this should be done at least once a day before bed. Ideally, you should also wash or at least rinse your face each morning as well. This helps remove oils and buildup, which can easily settle into pores and cause skin issues. Your everyday cleanser should be gentle with balanced moisture. Otherwise, you could end up with tight, dehydrated skin.
At least twice a week, exfoliate your skin to remove dead skin cells and other potential buildup and keep your pores fresh and clear. There are many options to choose from, whether you prefer a manual scrub or a chemical exfoliant. Be careful not to over-exfoliate; this can lead to skin damage and dryness.
After cleansing or exfoliating, apply a moisturizer that suits your skin type. Even those with oily skin should moisturize daily because this can actually help reduce natural oil production, resulting in a more balanced complexion. Lightweight lotions and serums are recommended for daytime wear, while thicker creams and masks can be beneficial if applied at bedtime.
Avoid Harmful UV Rays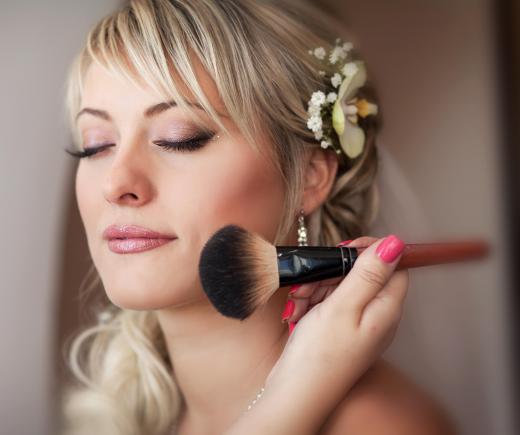 Too much sunlight can be harmful to your skin in more ways than one. UV rays can increase your risks for skin cancer and they can rapidly age you, leading to wrinkles, dark spots, and fine lines. They also lead to the breakdown of collagen, an essential protein that helps keep skin firm and taut. Collagen loss from sun damage can cause the skin around your pores to loosen, resulting in a sagging appearance and large, visible pores.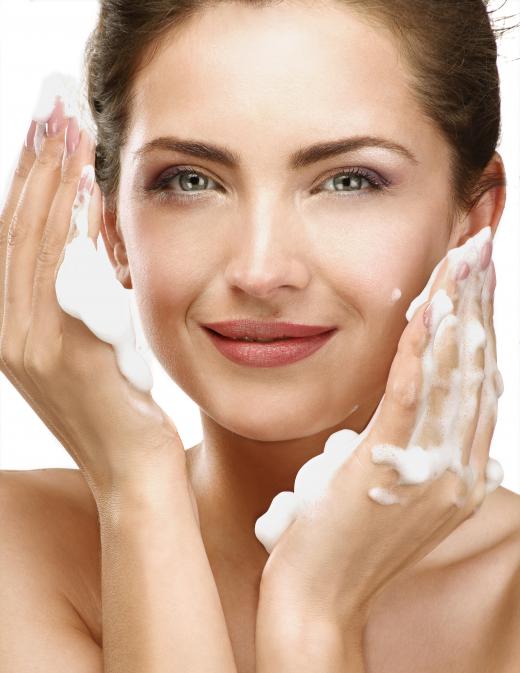 To prevent this, be sure to apply sunscreen with a minimum SPF of 30 to your face every day, even if you don't plan to spend time outdoors. Damaging UV exposure can still happen in the car or by a window. Many skincare products now include some type of SPF so you don't have to add an additional step to your morning routine. When you are out on a sunny day, wear a large hat to shade your face and try to stay in the shade as much as possible to minimize UV ray exposure.
Get Smart About Makeup Use
If you wear makeup, be sure to choose noncomedogenic products. These are created without ingredients that have a tendency to settle into pores and lead to breakouts and blackheads. Also, be sure to remove your makeup thoroughly every night before bed. Sleeping in makeup can lead to serious irritation and clogged, enlarged pores.
How To Apply Pore Minimizer
With so many different types of pore minimizers out there, you'll want to check the instructions first to ensure you're using the product correctly. These tips can help you enjoy the most benefits while avoiding unnecessary damage:
For cleansers and scrubs, use lukewarm water, massage gently with your fingertips, and rinse thoroughly before patting dry with a soft, clean towel. Avoid extremely hot water and aggressive rubbing, as these can dry out and damage the skin.
Toners should be applied with a clean cotton swab or pad to freshly washed skin. Wipe gently and use enough product to avoid too much friction or pulling during application.
Serums and spot treatments can be applied next. These products often contain high concentrations of beneficial ingredients, so a little goes a long way.
Finish your routine with moisturizers and creams, gently massaging in small circles and in an upward, sweeping motion.
Does Baking Soda Minimize Pores?
Baking soda is a natural product that has numerous beneficial skincare uses, including shrinking pores. Make a paste with it to create a spot treatment for large blackheads and pimples. It can help dry out the pimple, draw out fluids, and reduce inflammation and redness. You can also use baking soda to create a facial scrub that sloughs away dead skin cells and debris.
When using baking soda on your skin, be sure to do so sparingly. Too much grit can cause tears in the skin and using it too often can dry out your skin, ultimately leading to more clogged pores.
When To Apply Pore Minimizer
To get the maximum effectiveness out of a skincare product, you need to apply it at a certain point in your routine. Pore minimizers are no exception. In most cases, if your product is liquid and has the consistency of a toner, you will apply it as such. Ensure you have cleaned your face with a cleanser before using a pore minimizer. Washing your face first will ensure your skin can absorb the product without issues. An added benefit of this product is that it will cleanse your face of excess dirt. It leaves you with even cleaner skin.
The application of it is similar if your pore minimizer is a mask. Start with a clean face and apply it after. Continue with your skincare routine afterward. Pore minimizers also come in thicker liquids, like lotions. If your item is a lotion or moisturizer, you will want to apply it at the end of your skincare routine. Most minimizers can be used daily, either in the morning or evening.
If you use a powder to minimize your pores, you will generally apply it after cleansing, toning, and exfoliating your face. You apply a primer before the rest of your makeup. Powders and primers usually contain silicone to make your pores seem smaller and fill them in.
How To Apply Pore Minimizer
You can apply a pore minimizer in a variety of ways. You may apply it with a cotton pad, cotton ball, or your fingertips, depending on the form of the product. If using your hands, make sure they are clean before you start. If you have a reusable cloth round, you can also put on a liquid pore minimizer with it.
Applying with your fingertips is best if you use a lotion or moisturizer for your minimizer. Try layering with your fingers or a silicone applicator if you use a mask form. Apply the mask all over your face or just to problem areas. Powders and primers should be applied with a sponge or brush to be most effective.
If you are using a liquid minimizer, a general way to use it is to apply it over the face and neck after you cleanse and tone. You can use your hands or a cotton pad. Do not rinse it off and continue with your skincare routine.
Many primers suggest you apply in thin layers and see how your skin looks. Apply more if needed. You will usually have to spread primers in multiple layers, and you will have to be heavy-handed. It is due to the nature of primers. You are pressing silicone into your pores to smooth your skin, which is why you need to put a lot on.
You should apply pore minimizing masks once or twice a week. In general, you leave them on for 10 to 20 minutes and wash them off with warm water.
What Is the Most Effective Pore Minimizer? 
There are many different minimizers available on the market. They all have various benefits for your skin. However, a consistently popular pore minimizer is a 2% BHA exfoliator from Paula's Choice. It has received praise each year for being affordable and performing well. The ingredients are straightforward, and customers like its exfoliation. Their pores are much less noticeable. You apply this product daily as the third step in your skincare routine. You can use it in the morning or evening; it depends on your preference. When you first start to use it, apply it every other day and see how your skin responds. Work your way up to two times a day maximum. As with any skincare routine, apply sunscreen at the end of your morning routine.
This pore-minimizing treatment contains salicylic acid and hyaluronic acid, both of which are excellent for your skin. These ingredients do more than minimize your pores as an added benefit. They also fight signs of aging and help with blackheads.
If you want to try a different brand or formula, a salicylic acid toner or exfoliator will work similarly. Vitamin c serums and retinoids are also excellent products that help you minimize pores and give a smooth, even complexion. Clay masks made with bentonite clay or kaolin clay also work as pore minimizers.
In general, you will want to use a product that has one of these ingredients:
Vitamin C
Glycolic acid
Lactic acid
Salicylic acid
Retinoids
These ingredients work to minimize the appearance of pores and boost your overall skin health. There are many different formulations available. Research to see which one suits your needs and budget.
AS FEATURED ON:
AS FEATURED ON:







By: kubais

Using an exfoliant can help minimize pore appearance.

By: badmanproduction

Pore minimizers may help people fight acne.

By: robert mobley

Some pore minimizers may be able to prevent rosacea.

By: Darren Baker

Clay face masks can be applied to help tighten skin and reduce the size of pores.

By: Leo Lintang

Emu oil, a pore minimizer, may also be used to reduce the appearance of stretch marks.

By: armina

A non-comedogenic foundation that is designed to not clog pores may also help minimize them.

By: ipag

Some cleansers are designed to shrink pores.