What Is Semi-Permanent Mascara?
Semi-permanent mascara is a cosmetic treatment that provides enhancement of a person's eyelashes that lasts for several weeks. The treatment is a substitute for daily mascara usage, although some individuals may choose to apply a standard mascara over semi-permanent mascara for a more dramatic look. The product is not a dye, and like regular mascara, it thickens, lengthens, and separates lashes. Typically, manufacturers of semi-permanent mascara stipulate that its application can take place only in a salon or spa environment by a licensed beauty professional, such as a cosmetologist or aesthetician.
Many people who wear mascara do so because they wish to accentuate their eyelashes to draw attention to their eyes. While many different types of mascara are on the market, they generally have several drawbacks. Mascaras must typically be reapplied on a daily basis, and during the day they may flake or wear off. Plus, unless a person uses waterproof mascara, sweat, tears, or any type of moisture can cause it to run. As a result, some cosmetic companies have developed a semi-permanent mascara that can be applied once every few weeks and that does not wear off during everyday activities or exposure to water. This mascara coats lashes like regular mascara, but remains on the lashes for a significant period of time without flaking or running.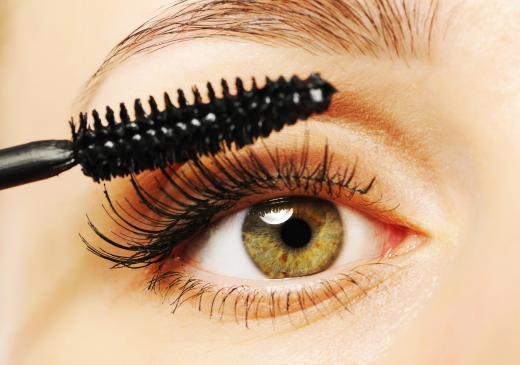 The formulas for different types of semi-permanent mascara vary by manufacturer, and some brands may last longer than others. Beauty professionals are typically trained in the application of semi-permanent mascara by manufacturers before they are permitted to provide this treatment to their customers. Some types of semi-permanent mascara can be "refreshed" after a few weeks by the beauty professional without the need for a complete reapplication of the product. Some formulas may also require the wearer to use a specially formulated mascara over the semi-permanent mascara if he or she desires additional thickening or coverage.
For many people, this process is a good alternative to the daily application of thickening mascara. Until recently, the only semi-permanent option for mascara wearers was to undergo the process of eyelash dyeing, which some beauty experts feel is dangerous. While eyelash dyeing resulted in darker lashes, it did not provide enhanced thickness or length for wearers, forcing them to use additional mascara for a more conspicuous look. Those who are interested in undergoing the procedure can visit the websites of product manufacturers to find out the locations of beauty professionals certified in the product's application.
AS FEATURED ON:
AS FEATURED ON:







By: haveseen

A cosmetician applying semi-permanent mascara to a client.

By: bedya

Regular mascaras must be reapplied on a daily basis.

By: beornbjorn

Semi-permanent mascara won't run like other types will.

By: Minerva Studio

Using eye makeup that is older than three months old may increase the chances of contracting an eye infection.

By: Antonioguillem

Mascara should enhance a person's eye color.