What Is Straightening Balm?
Straightening balm is a hair product formulated to help temporarily remove curls and waves. This type of balm is often used along with a blow dryer or flat iron to create sleek and straight hair. Many people with naturally curly hair use this styling method to straighten it, and a good quality straightening balm can provide moisture and protect their hair from heat damage. One of the most common problems resulting from straightening hair is a frizzy texture, and straightening products often help to smooth out these fly-away hairs. Selecting this kind of hair balm usually entails trying a few products to determine which works the best without leaving excess residue on the hair.
Some types of straightening balm have a clear appearance similar to hair gel, while others are thick and resemble hair conditioners. Each of these products works by coating each strand and pulling out the natural curl. A few brands of hair balm can be used without heat, although some people find that they need to apply larger amounts of them to completely straighten their hair. Since moisture sometimes reverses the effects of a hair straightening balm, some balm has high concentrations of ingredients that resist humidity.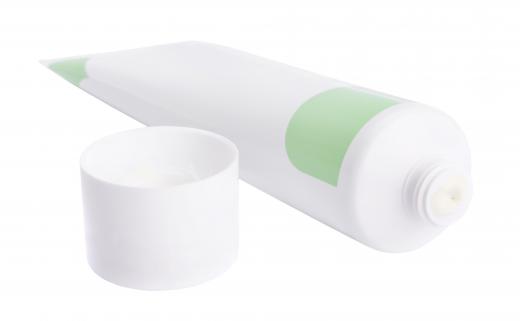 Heat styling with a straightening balm is typically done just after shampooing, and some users find that a good hair balm with moisturizer can eliminate the need for a separate hair conditioner. Stylists often advise applying a small amount of straightening product to one section of hair at a time. This technique ensures that the hair will be completely dried and straightened without leftover damp strands that can curl back up. Many hair stylists also recommend using a round styling brush to shape hair that has received a fresh coat of straightening balm.
In addition to a blow dryer and round brush, many people opt for a flat iron to help further straighten their hair. Some brands of straightening balm are designed to penetrate the cuticles of each hair strand when heat is applied from one of these styling tools. The motion of the flat iron then smooths down the hair cuticles and locks in moisture along with removing curl. Using this particular straightening method can sometimes cause the hair to steam slightly from the heat meeting the balm. Some inexperienced flat-iron users may find this somewhat alarming, although heat damage can generally be minimized with a high-quality straightening balm.
AS FEATURED ON:
AS FEATURED ON:







By: StockPhotosArt

Straightening balm provides moisture to the hair while removing frizz, curls, and waves.

By: macbrianmun

Straightening balm is often used in tandem with a blow dryer to create sleek-looking, straight hair.

By: and.one

African American women can have hair control problems, such as frizz, poor control and styling, that can be solved with a straightening balm.

By: Laurent Hamels

When straightening damaged hair, look for a balm or cream that contains as many natural ingredients as possible.

By: indiraswork

A straightening balm may help to smooth hair that is unruly or curly.