What Is Translucent Face Powder?
Translucent face powder is a cosmetic that can be worn by both men and women to reduce facial shine and even out skin tone. This type of face powder typically comes in several shades, although some companies also produce powders in shades that are intended for use on all skin tones. Users of translucent face powder typically have a choice of loose powder, which is stored in jars or boxes, as well as pressed powder, which is packed in compacts. The type of translucent face powder that a person uses is largely a matter of personal preference, although many users purchase both loose and pressed powder, using the former at home and carrying a powder compact while out and about for the purpose of touching up makeup and combating the appearance of oily skin. Powder can be applied with a brush or a powder puff or a technique that uses both. The user applies a relatively thick layer of powder with a puff and then buffs the excess off the skin with a large, fluffy makeup brush.
Many people are concerned about the appearance of their skin, particularly if they have oily skin or their skin tone is uneven. Translucent face powder addresses these problems by absorbing oils and reducing the appearance of redness or sallowness. In addition, translucent face powder can also set foundation and blush, making it look more natural and preventing it from wearing off quickly. Individuals who do not like a heavy makeup look may choose to wear translucent face powder instead of foundation.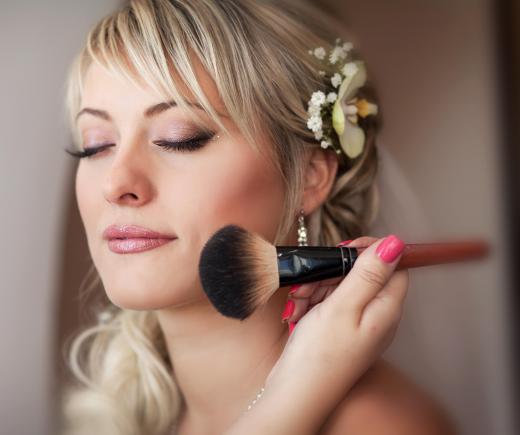 While some manufacturers produce translucent face powder in a wide variety of shades so that individuals can closely match the cosmetic to their skin tone, others produce powders that come in one shade and are intended to address specific skin care issues. For example, some companies produce powder that essentially looks white in its container but that actually blends with any skin tone and provides both coverage and a smooth appearance to skin. Other types include colored powders that address specific skin tone issues, such as redness.
Some powders are very light in consistency while others may be more heavily pigmented. This allows users to choose the powder that gives them the amount of coverage they want or need. In some cases, a translucent face powder may be pigmented enough that it can be used as a foundation. The advantage to a powder foundation is that it is usually easy to transport in a compact and can be conveniently reapplied while the wearer is away from home.
AS FEATURED ON:
AS FEATURED ON:







By: armina

Some translucent face powders are formulated to address oiliness or redness.

By: micromonkey

Some brands of translucent face powder can be used on all skin tones.

By: Leonid & Anna Dedukh

Translucent face powder is a cosmetic that can be worn by both men and women to reduce facial shine and even out skin tone.

By: Doruk Sikman

Failure to properly remove face powder may result in clogged pores and acne.