What Is Translucent Powder?
Translucent powder is a colorless powder that can be found in one of two ways: pressed or loose. It can be worn on its own, but it typically is used on top of foundation to complete a makeup routine. This powder has been in the makeup industry for years, and although it is not enough to transform a look on its own, many people believe that a beauty routine would not be complete without it. Makeup, especially translucent powder, has many uses in the world of cosmetics.
When applying translucent powder, one must be sure to choose the correct powder variation. This type of powder has a sheer and colorless finish, and it comes in light, medium and dark varieties to best match the skin's natural complexion. After applying a liquid foundation, one should apply the translucent powder over the foundation by using a makeup powder brush or the poof that is supplied within the powder container. The powder is meant to be applied lightly to simply set and finish the look.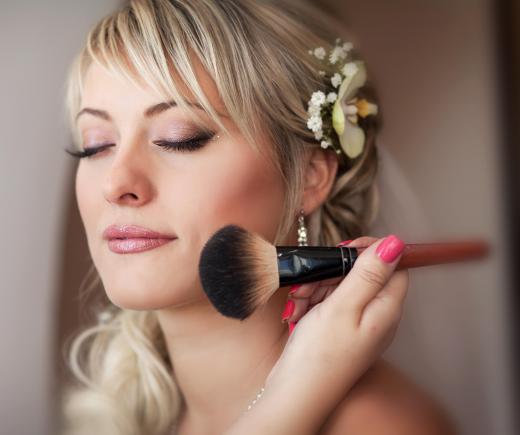 People with all skin tones can wear powder, but for an uneven skin tone, translucent powder works wonders. Applying the translucent powder over the makeup will help to fill in and provide even texture and color to the facial skin. One can achieve this look with or without the use of a foundation, although foundation is recommended for use as a base underneath the loose or pressed powder.
The sun's rays beating down during the daytime can become brutal on the skin. Many companies that make translucent powder have created variations with a sun protector built in. Sun protection factor (SPF) powders are applied in the same way as non-SPF powder, but wearing this powder will protect the skin from damage and the premature aging that is caused by exposure to the sun. Again, foundation is not necessary, but when used along with an SPF powder, it provides extra protection for the skin.
During the hotter months of the year, one might look for lighter makeup coverage by omitting the foundation. Pigmented powders work because they are meant to be worn as the base and powder all in one. Unlike the colorless powders, pigmented powders provide a lighter, full coverage without the feeling of having makeup caked on during the summertime. Powder also works to eliminate oil and shine that builds up on the face. With this powder, one can achieve the same fresh look as being fully made up.
AS FEATURED ON:
AS FEATURED ON:







By: armina

Some translucent face powders are designed to counter oiliness or redness.

By: micromonkey

People with all skin tones can wear translucent powder.

By: Valua Vitaly

Translucent powder is considered especially effective for those with uneven skin tone.

By: Doruk Sikman

Failure to properly remove translucent powder may result in clogged pores and acne.

By: Liv Friis-larsen

Many translucent powders have a built-in sun protector to help prevent negative side effects from sun exposure.

By: Tanouchka

Translucent powder can be worn on top of foundation.